In the morning on the second day you can see them converging on the convention center like lemmings on a cliff. Those in cars are frustrated at the lack of parking anywhere -- except in places that have raised their prices for the occasion or in garages ten blocks away. Those without badges are dressed as elves or aliens; two guys walk side-by-side, each dragging a large box on wheels, a smaller box or two in their hands. And then there are those in groups, unmarked otherwise, often in black, hurrying to that long building they see in the distance.
That building is the San Diego Convention Center and -- pay attention! -- it's important for two reasons. One: The bottom level contains the exhibition room (one half-mile wide by the width of a football field deep and tall), where you will find nearly everything you could want to buy in terms of art, comics, games, and books, as well as booths set up by BIG NAME companies to proselytize for their wares, i.e. the newest Star Wars™ action figure playsets. Though the large companies take center stage -- the center of the exhibition floor, that is -- there are also a large number of small(er) companies in publishing (comic and book), video games, and art.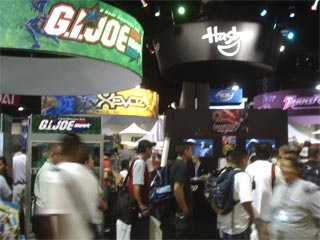 Next: The second floor (and this year, for the first time, in gigantic hall H on the ground floor) is home to all of the presentations, interviews, retrospectives, movie rooms, and general "must-see" events. Most take place in a small and easily navigable labyrinth of adjustable-size rooms, all with the same basic layout: plebes in the chairs and stars at the raised podium. For the convention, this area -- the Sails Pavilion -- is divided into a large autograph area, a small gallery for the Art Show, several stations set up for companies to review the portfolios of would-be comic artists, and, as always, a large hollow square of tables the sole purpose of which is to GIVE AWAY FREE STUFF. In the center of the second level is a large glassed-in greenhouse used for hydroponics during extended space travel.
Although it's difficult for those of us with real jobs, I strongly recommend attending Comic Con for the full four days. That way you won't miss any of the panels you're interested in; although prevailing rumor has it that the convention planners schedule the most popular panels for Friday and Saturday. And it's good to have plenty of time to fully scour the exhibition room. But the real reason to be at the Comic-Con at the beginning is to feel the charging of the atmosphere, higher and higher until someone halts events because of the crowd's rowdiness (apparently this happens a lot during the Masquerade). The energy winds tight until early Sunday afternoon finally bleeds the pressure away in torrents.
I'll admit that's a bit poetic, but forgive my being carried away by a convention that surrounds you with a hundred thousand like-minded individuals. As expected there are gamers and anime fans, but what caught me a little off-guard this year were the large panel and larger crowds dedicated to science fiction and fantasy authors, films, animation, and tv shows. The panel for the realistic TV dramedy Freaks and Geeks was very popular -- not surprising, since most of the attendees were covered by one or both categories. Proudly, I might add (before the stones start flying).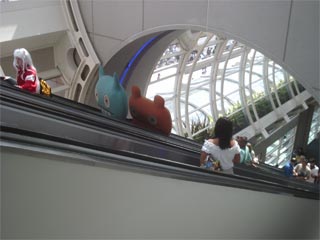 Before Comic-Con your diligent RevSF conspirators Jason von Myers, Alexandra the Great, and I carefully mapped out the days, highlighting each interesting panel in our direct-from-the-web Con Guide -- we suffer a lot for you folks -- and starring those that were positively musts. We divided our forces to attain maximum coverage.
Then, while Jason and Alex cloned themselves in order to attend all interesting events (a plot which failed since all the clones demanded to see the same things), I promptly ignored our careful planning and spent the majority of my time on the exhibition level. It was here that I saw Happy Tree Friends and made myself ill: Imagine Itchy & Scratchy without the ironic Simpsons padding. Here I managed, purely by chance, to walk within three feet of Val Kilmer during the two hours he was at the conference to sign autographs. Here I experienced the promo maquettes for a new line of action figures (sadly, I forget the name) that seem to be fantasy incarnations of the rats in The Secret of Nimh.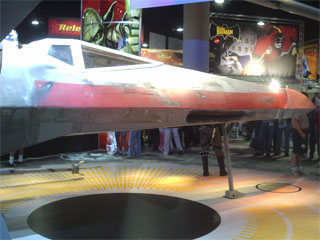 The area I frequented most, though, was inhabited by the independent comic producers, both of the small and not-so-small kind. Dave Bort arranged and photocopied his comics just for the convention. Others worked as a team at one table, or were affiliated with a larger group spread out like a web between the countless tables. A number of artists were creators of online comics.
One reason I abandoned the second floor to my compatriots was that I firmly believed that the TV, film, and comics panels would be uninteresting either because they would showcase undynamic people (e.g. producers, suits from marketing) or the audience wouldn't provide, um, interesting questions. However, one of my favorite experiences was the Farscape panel because of the interactions between the people on the panel, and the way they turned any question into an interesting story. Two other standout panels were those for MirrorMask (lovingly presented by Neil Gaiman and Dave McKean) and Shaun of the Dead, both stories about nice British people getting into messes. One mess involves zombies, but I'm not going to let that cat out of the bag.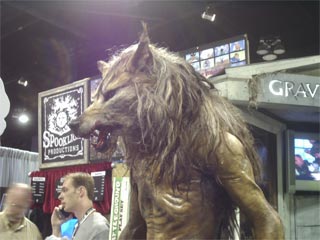 What's not to recommend about the San Diego Comic-Con? I was there for four days, got a free CD (the soundtrack for Shaun of the Dead; it's good), found some comic books I'd been searching for (not all, though; apparently Girl Genius is very, very popular); met two of my favorite science fiction writers (China Miéville and Greg Bear); was able to get two of my favorite science fiction writers to agree to be interviewed for RevolutionSF (see above); talked to a number of new favorite comic book writers; witnessed the amazing quick-draw comedic talent of Sergio Aragonés; and spent too much money on a Warhammer 40K collectible card game that no one is ever going to play. Except Jason and me. Tough luck all of you who want the game; it's out of print. Ha ha ha HA! Where else will you make such fabulous finds except at the Comic-Con International?
No, e-Bay is not the correct answer.
Unless you're looking to buy my cards there.