Batman — The Movie (1966)
Featuring rubber sharks, baby ducks, scads of villains and Lee Meriwether as Catwoman.
Sucks:
Why are the eyebrows drawn on on Batman's mask white? (Joe Crowe)
Clearly, the CAMP. Homo-erotic overtones, retarded dialogue, over the top stupidity, and proto-psychedelic camera angles and set design. Sid and Marty Krofft weren't the only producers smoking dope out in Burbank. (Mark Finn)
The intrusion of Hollywood celebrities, and all of the ego that came with it. The guest-shots hanging out the windows during the wall-climbing scenes, a vain Cesar Romero who wouldn't shave his mustache, an incomprehensible Otto Preminger as King Tut . . . sometimes, you can have too much fun for one thirty minute show. (Mark Finn)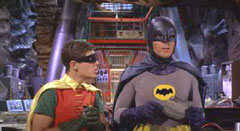 The costumes were laughable. Hey, Adam West, nice Bat-Paunch. Burt, are those actually tights? Sheesh. (Mark Finn)
Not enough Gorshin, my friends. Not nearly enough sweet Gorshin. (Joe Crowe)
That damn Salvation Army band. All these years later and that song is STILL stuck in my head! (Jayme Blaschke)
Easily defeated dehydrated henchmen. Yo ho! (Jayme Blaschke)
That a pimped-out Penguin Submarine, armed to the teeth with surface-to-air missiles and dolphin-killing torpedoes, can be taken down so easily by that rinky-dink Batboat. (Jayme Blaschke)
Holy early-onset Alzheimer's, Batman! In a press conference scene, Batman tells a reporter: "Nonsense. How can a yacht simply disappear?" Then, in the very next scene, Batman says to Robin: "As you yourself stated, a yacht simply can't disappear." Either Batman left his Ginseng tablets in his other utility belt, or he was used to attributing to Robin thoughts he himself had:
"Robin, what would possibly make you suggest that I put on your tights and a pair of pasties, and then grind my sweaty Bat-sack on the Bat-pole to the tune of 'Incense and Peppermints' in hopes of getting you to place folded paper currency in the elastic of my Bat-a-thong?"
"Holy underwear Batman, I never said that!"
"You're sure, Robin? Well then, why am I wearing these pasties?"
"I don't know."
"Neither do I, Robin, neither do I. It's quite a conundrum. Hmmm . . . conundrum. Conundrum. . . ."
"The Riddler, Batman?!"
"Right, Robin, the Riddler! To the Bat-poles!"
"Uh, I'll take the stairs, thanks." (Jason Myers)
Rocks:
See "Sucks" above. No, really. I know it's wrong, but everything awful about this movie makes me enjoy it all the more: a pudgy Batman, an awful rubber shark, a miraculous "Rubber Tire Sale" that saves the crashing Bat-Copter, heroes and villains alike snacking on every cheap piece of scenery in sight — it warms my heart. (Peggy Hailey)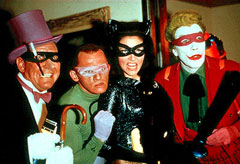 Super-villain math:
Commissioner Gordon: "Penguin, Joker, Riddler, and Catwoman too! The sum of the angles of that rectangle is too monstrous to contemplate!"
Batman: "We've been given the plainest warning: They're working together to take over. . . ."
Chief O'Hara: "Take over what, Batman? Gotham City?"
Batman: "Any two of them would try that!"
Gordon: "The whole country?"
Batman: "If it were three of them, I would say yes, but four? Their minimum objective must be . . . THE ENTIRE WORLD!" (Jason Myers)
Batman frantically pounding on the obviously foam rubber shark is just pure glee. (Joe Crowe)
Robin's essay on the dangers of drinking, which totally captured the 1950s and 1960s Batman comics: "Drink sure is a filthy thing, isn't it? I'd rather be dead than unable to trust my own eyes!" (Joe Crowe)
Burgess Meredith's mumbling delivery presages his hilarious line reading in a commercial from my teenhood, one that also sums up the entire Batman series for me: The commercials where he said "Cheese . . . glorious cheese." (Joe Crowe)
Miss Kitka, dahling! (Jayme Blaschke)
The Penguin's knockout gas umbrella, his flying umbrellas . . . pretty much anything the Penguin pulls out of his umbrella bag. (Jayme Blaschke)
Scrambled world leaders! (Peggy Hailey)
Frank Gorshin as the Riddler. He was actually almost menacing, he was so maniacal. Easily the most charismatic of the recurring Bat-villains. (Mark Finn)
For a seven-year old boy in the seventies, ANY superheroic figure in a costume is a good thing. Batman was a daily dose of lunacy before anyone could be discerning enough to think of things on the Sucks List. (Mark Finn)
The '60s Batmobile was, and is, still one of the coolest cars ever. No apologies for liking that sweet ride. (Mark Finn)
Two words: Exploding octopi. (Jayme Blaschke)