Captain Universe: Invisible Woman #1 (Marvel)
By Jay Faerber and James Raiz
Superhero is embodied with additional cosmic power, goes head to head with mis-understanding superbeing from another galaxy. They fight, then team up to save a city from a unexplained tidal wave — ho hum. This is actually the fourth of a five-part Captain Universe storyline involving various Marvel characters, and it reads like one of the worst issues of the old Marvel Team-Up. Avoid it if you can.
The Thing #1 (Marvel)
By Dan Slott and Andrea DiVito
Dan Slott focuses his keen eye on how Ben Grimm handles sudden wealth and the attraction of the "elite" classes who had previously shunned him. As you'd expect from Slott it's well written, with some keenly observed character moments. DiVito's art is a little stiff at times but does a reasonable job of carrying the story forward.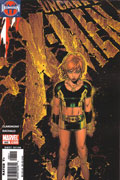 Uncanny X-Men #466 (Marvel)
By Chris Claremont & Chris Bachalo
The Rachel Grey / Phoenix / Marvel Girl character has long been a favorite of mine, and as she appears to be the lead character in this latest X-Men arc I thought I'd take one of my periodic dips into the pool of X-Men continuity. Surprisingly, Claremont does a good job of encapsulating the recent House of M events in the first two pages, setting up both Rachel's character and setting. The rest of the books jumps between catching up with other X-Men (amazingly I knew who most of them were) and building Rachel's backstory and her new sense of family with the Greys until a last page incident that should set up the rest of the story arc. I will probably pick up the rest of the arc, but I doubt it will hook me back into the whole X-universe.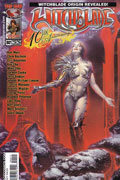 Witchblade # 92 (Top Cow / Image)
By Ron Marz and various artists
This special 10th anniversary issue promises to reveal the origin of the mysterious Witchblade artifact worn by New York police officer Sara Pezzini, and it delivers. The story revolves around Pezzini persuading her mysterious mentor and the artifact's guardian to tell her its origins. As he does, she experiences a sequence of flashbacks to the lives of the women who have wielded the weapon over the centuries. Each flashback is drawn by a different art team, giving each its own sense of time and place. The ultimate pay-off is not one I expected and involves a creator-owned character from outside the Top Cow universe. Despite the different art styles the story flows consistently and gives a good sense of the series. It works well as both an anniversary celebration for existing fans and a good jumping-on point for new readers.
Pick of the Week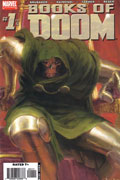 Books of Doom #1 (Marvel)
By Ed Brubaker and Pablo Raimondi
The opening chapter of what ostensibly reads like a biography of Victor Von Doom. Brubaker captures Doom's voice and personality, making what could have been a dry caption-ladened book into a compelling narrative that starts to give you some insight into the demons, real and imagined, that drove the young Von Doom. However I wonder how long this introspective style will hold the story and if it will loose its focus once the future iron-clad monarch goes up against the heroic denizens of the Marvel Universe.