Blood of the Demon #11 (DC)
By John Byrne
OK, I'll admit I only picked this one up because of the cover image of a giant demonic Etrigan looming over a Gotham City in flames. Once inside I was quickly lost by John Bryne's patent scene-transition jumps, which he seems compelled to do every few pages. The man seems incapable of producing anything approaching a linear narrative these days. The characters (who I didn't know at the start, and knew less at the end) seemed almost emotionless and heartless. Gone are the days when I was a fully pledged "Byyne victim" and would buy anything he worked on. This just confirmed my feelings that his best is far, far behind him.
Bojeffries Terror Tome #1 (Atomika)
By various
Alan Moore, Steve Parkhouse, Neil Gaiman, Micheal Gilbert, Dave Dorman, Steve Pugh, David Lloyd, Ted McKeever and Charles Vess. A steallar line-up of talent contributes to this quirky anthology of nine tales of terror. Don't expect blood and guts or hack-and-slash-style story telling here — this isn't horror, instead it's terror with a distinctly British suburban feel. In places it's out-and-out Pythonesque, in others self-referential and sometimes just plain weird. I haven't read a book like this in a long time, in many ways it reminded me of some of the experimental British titles of the eighties where people like Moore and Warren Ellis learnt their trade. Good fun stuff if you enjoy the darker side of British humor.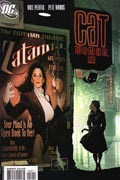 Catwoman #50 (DC)
By Will Pfeifer and Pete Woods
Although it doesn't mention it on the cover, this supposed "milestone" issue of Catwoman is in fact an Infinite Crisis cross-over. In fact the main point of this issue seems not to be what actually happens on the pages, but what is inferred. Thanks to the sudden and relatively unexplained appearance of Zatanna, we find out that something happened to Selina Kyle in the gap between her first series and this present one that explains why she switched from being a naughty girl to a good one. Never mind that in fact it seemed to be a logical character development driven by strong storytelling. Now in order to make some sense of the new DCU-wide continuity they had to throw in a "McGuffin" that undermines everything done in the last forty-nine issues. If you've read Identity Crisis you will have some idea what that plot device is and why Zatanna is involved; otherwise just enjoy the sight of the Adam Hughes cover on the stands and don't bother with what's inside.
Detective Comics #815 (DC)
By Shane McCarthy and Cliff Chiang
No Infinite Crisis tie-ins, no butt-head Batman, but a return to a Dark Knight who cares for those around him, as ably demonstrated in this moving tale as Alfred falls victim to serial killer Zsaz. I wasn't too impressed with Chiang's art, which seemed somewhat blocky and flat, a victim of the recent trend to let the digital coloring add texture instead of using a good inker (in fact there isn't one credited); but the script raised it above the norm and made this one of the better Batman tales I have read recently. If only all the Bat books were like this one.
Fantastic Four Special #1 (Marvel)
By Dwayne McDuffie and Casey Jones
The last Fantastic Four Special (way back in 1984 — which is why I guess it seems Marvel had forgotten about it as they numbered this one #1) had 52 pages and was a celebration of one of the classic FF stories of all time. This one? Well, this one is a neat story idea of an annual truce day between Reed Richards and Dr. Doom in which they seek redemption from each other while paying a literal game of mental chess. The idea was well executed, told with humor, action, good dialog and a respect for FF history. But worthy of a being called a special? Not really. At the standard 22 pages this could easily have been a fill-in inventory story for the regular title, and that's just what it felt like.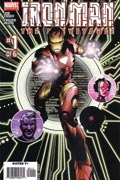 Iron Man: The Inevitable #1 (Marvel)
ByJoe Casey and Frazer Irving
I sat down to do this review just two days after reading this book and couldn't remember anything about it. Opening the book and doing a quick flick through did nothing to remind me of the plot. I think it was something to do with illegal arms smuggling — but I could be wrong. The flat artwork and heavy coloring are just plain awful to my eyes. The only "inevitable" part of this book is that I won't bother picking up the second issue.
Sable & Fortune #1 (Marvel)
By Brendan Cahill and John Burns
If you love the Sean Connery Bond movies, if you know who Modestry Blaise is, then you will love this book. I've always had a soft spot for Silver Sable and fond memories of the old Howard Chaykin version of Dominic Fortune, seeing the two together in a stylish thriller painted by British comics legend Burn is almost a fan-boy wish fulfilled. It looks and feels just like it stepped of the pages of some of the old color adventure weeklies I read as a kid back in Blighty. Excellent stuff for me, but I will admit it may be an acquired taste for the majority.
Star Wars: Purge #1 (Dark Horse)
By John Ostrander and Doug Wheatley
What happened to the Jedi who didn't die when General Order 66 was issued? Would they all hide and wait out for a return to better days? Of course not. John Ostrander produces a passionate tale that sees a band of disenfranchised and angry Jedi Knights banding together to take on the new Sith Lord, Darth Vader. It's a no-holds fight full of heroics, sacrifice and death. It also does more to provide understanding of Vader's motives and descent to the Dark Side than any scene in the recent movie. An essential chapter in the history of Vader.
Son of M #1 (Marvel)
By David Hine and Roy Allan Martinez
This mini-series promises to follow the trials and tribulations of perhaps the most high-profile mutant to lose his powers in the recent "House of M" storyline — Quicksilver. The opening few pages are superbly told as art and text are used to contrast the speedster's former abilities with his current state. A few pages demonstrate his innate heroic tendencies: Even when de-powered he wades in to rescue a fellow mutant from a mugging. Unfortunately most of the book revolves around an irate Spider-Man taking out his anger on Quicksilver for something that happened during House of M. This makes no sense if you didn't read the House of M issues themselves and I'm sure no one was meant to remember what happened to them in that alternative reality, and Spidey seems totally out of character here. The result is 10 pages of story worth reading and 12 you can ignore.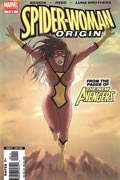 Spider-Woman: Origin #1 (Marvel)
By Brian Michael Bendis, Brain Reed and Luna Brothers
Bendis and Reed tackle the convoluted origins of Jessica Drew, the original Spider-Woman, in this five part mini-series. This opening issue sets up the basics and sticks closely to the events as originally portrayed in her eponymous late 1970s series. Bendis' dialog is, as usual, excellent and the development of Jonathan Drew from devoted father to obsessed scientist is gradual and believable. Call me a traditionalist, but I have no real like of the current trend towards flat art complemented with computer generated backgrounds and digital coloring. As such the work of the Luna Brothers here was more of a distraction than an asset, making the overall product look somewhat amateurish.
Ultimate X-Men / Fantastic Four #1 (Marvel)
By Mike Carey & Pasqual Ferry
A mysterious being appears to Charles Xavier warning of an alien invasion only the X-Men can stop, so he buys into it without question, rushing off with most of his merry band of mutants, leaving the mansion in the care of Kitty Pryde and Iceman . Wolverine returns from a road trip just in time to help them take on a mysterious intruder (let's face it, every X-Men book has to have Wolverine). Surprise, surprise, the intruder leaves a clue pointing to the Baxter Building and guess what happens next? Yes, you guessed it — the three X-Men go toe-to-toe with the FF. Oh boy. Talk about a by-the-numbers, cliche-riddled plot. I expected better from a writer of Mike Carey's abilities than this.
Pick of the Week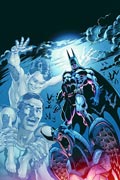 Batman: Gotham Knights #72 (DC Comics)
By A.J. Lieberman and Al Barrionuevo
This excellent, stand-alone issue fills in a little more of Bruce Wayne's back-story while posing a few questions about his relationship with his murdered parents. Events start with the caretaker of the Waynes' little-used summer house committing suicide on the property. In his subsequent investigations Wayne uncovers some incriminating letters that lead him to question his own assumptions about the security of his parents' marriage; but all is not what it appears to be on the surface. Here we get an all-too-rare glimpse of a human Bruce Wayne and a Batman, who actually uses his detective skills for once. This is one of those short simple tales that will stay in the memory for a long time.
Fallen Angel #1 (IDW)
By Peter David and J.K. Woodward
Peter David's critically acclaimed series moves from DC to IDW, now set several years later. It is written in such a way that you don't need to have read the previous issues to enjoy or understand this one; all that you need to know is revealed as the story develops. Characters are introduced, relationships and the setting established and it all ends with a plot twist that hooks you enough to want to find out more. There's a reason why Peter David is considered one of the best writers in comics today and why his "writing comics" seminars at conventions are standing-room only events; this book is a perfect example.
Revolution on the Planet of the Apes #1 (Mr. Comics)
By Ty Templeton, Joe O'Brien and Salgood Sam
The apes are back in the capable hands of Ty Templeton and crew. Set firmly in the world of the original Apes movies, this series is a welcome return to that world for while being equally accessible to those with limited knowledge of the mythos (like me). I was hooked within a few pages, immediately drawn into the scenarios and characterizations of ape and human alike. This series also has resonance for what's being happening in the U.S. political arena and parallels aren't that hard to draw. This is a highly promising start from a new publisher that treats its licensed properties with respect.