Bill Fountain first exploded onto the comics scene with his critically acclaimed 1994 graphic novel The Sound of Coming Darkness (Blackbird Comics). After having stories in Caliber Presents, Creature Features, and Weird Business, Fountain's next graphic novel was The Tell Tale Heart (Mojo, 1995). This controversial, popular and acclaimed book was a collection of Edgar Allan Poe stories interpreted with Fountain's illustrations. After an appearance in Mojo's The Big Bigfoot Book (1996), Bill Fountain the comic creator all but disappeared. In the ensuing years, Fountain became an award-winning educator, blues critic, and a filmmaker. He recently returned to comics with The Raven, a comic book version of Poe's classic poem.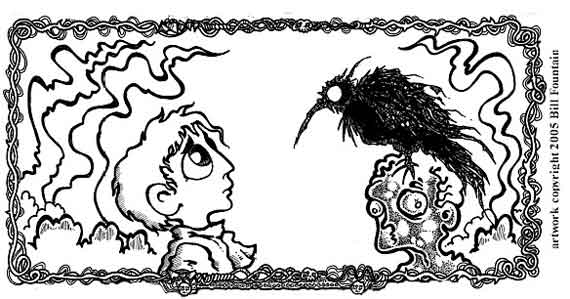 REVOLUTIONSF: Why after a ten-year hiatus did you decide to return to comics?
BILL FOUNTAIN: A combination of life happening and a growing frustration with the declining quality of the comic work I was being offered drove me away from graphic novels and into other media ten years ago. I spent the last ten years teaching, cycling, writing, directing films and raising a daughter. I think more than anything, the thing that brought me back to creating comics was I felt a strong need to communicate and express myself using sequential art, and more to the point, to communicate with this up and coming generation.
It was also a huge "practice what you preach" awakening moment for me. You are telling these kids to pursue their dreams with passion and never give up and you aren't doing likewise. Doing The Raven comic was me finally walking the walk. We stray from the path but occasionally the path finds us again. With a vengeance.
What has been the reaction to The Raven, both critically and popularly?
So far, great on both fronts. Charles de Lint compared me to "Tim Burton as a cartoonist," which was really awesome. It thrills me to hear middle and high school kids discussing Raven after they read it. The Poe Museum in Virginia sold out of the book in less than two weeks. That was a real honor to not only have my book in the mseum but that it was well received. I'm enjoying the dialog that the book and the lectures are opening up. That to me is the real reward of the project. To see fifth-graders running to a dictionary or checking out Poe books in the library is great. It's the best kind of reaction to get! My favorite reaction so far was a student at a high school who heard my reading and said "He's cool. But he's crazy. He's crazy cool."
The Raven is your first self-publishing effort. How did the experience differ from your previous books?
Scary. Fun. Amazing. It's different in a million ways. The biggest difference is you are in charge of everything. You put together the book signings, lectures, workshops, appearances, etc. You have to become a 24-hour-a-day marketing monster. The good news is that you can get the book exactly the way you want and do with it whatever you want. The bad news is the same as the good news. I have learned tons in just the short time the book has been available and it's an ongoing lesson.
Having said all that, I highly recommend it to anyone who is considering self-publishing. It's amazing to me that you can create a book all by yourself, get it printed, get it distributed, put it for sale online and people will find it and buy it. I think now more than any other time, it's very easy to get your work seen, purchased and appreciated by a greater audience. It's really a heavy-duty commitment wearing both hats but it's worth it. It's also awesome and awful that you have no one to blame but yourself. If the book succeeds or fails, it falls on your shoulders. That is some powerful motivation to succeed.
You've produced three Poe-related graphic novels and numerous shorter comic book stories, what is about Edgar Allan Poe that appeals to you?
It's difficult to pinpoint why I seem to gravitate back to Poe. I think in large part it has to do with the emotional resonance his work carries for me. The wild thing is the more I talk about Poe with my lecture audiences and readers, the more I discover they feel similar. There is something about Poe's work that requires you to commit to it emotionally. And once you commit, you are locked in. Poe's writing is not easy to dismiss or forget. It's also the murky depths of Poe's work. I love many writers but Poe is the one I can always go back to and find something completely new nearly every time I revisit his work. He intrigues me at every age.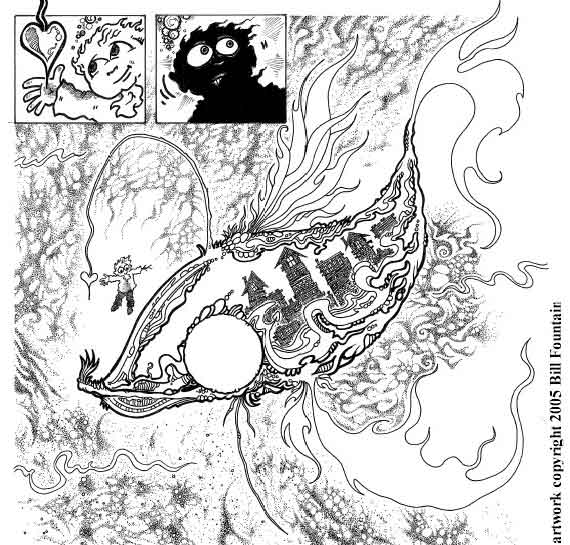 Why do you think there have been so many graphic versions of Poe's works?
I think because Poe's work cries out for imaginative minds to visualize his words. Everyone who reads a story like "The Tell Tale Heart" or "The Black Cat" develops a strong mental image of what it looks like in their heads. Artists can't resist Poe. The real problem for me with a lot of the graphic versions is they want to change Poe's words. To me, what is the point of doing a Poe project if you alter or adapt his language? There is also a tendency to try to "modernize" Poe. It's crazy. The beauty of Poe's work is how he puts a sentence or phrase together. It's the whole notion of the joy of having to look up a word that is so archaic that it was old in 1845 when it was written!
Don't get me wrong, there have been amazing graphic versions of Poe's work. It just makes me crazy when people think they can "edit" or "fix" Poe! I try to tell the kids I talk to that my comic book of "The Raven" is not an adaptation or a translation of Poe. The words of the poem are all there, unedited, unchanged. The words all belong to Poe. The pictures are mine. They are my reaction to Poe's words. This is how I see it. How you see it might be very different. Both our reactions are valid — that is the beauty of reading!
Are you working on other Poe-related works?
I am working on a short experimental film version of Raven using live action and stop motion animation. The lectures and dramatic readings are booked all the way through May and then we have a college thing lined up with the solo play. There are plans to produce the play version I wrote next year. There is a filthy rumor that I might be working on "Masque of the Red Death" or "The Black Cat" next. But that's all it is. A filthy rumor! Currently I am committed to an ongoing bi-monthly full-color comic series tied to a new feature film coming out next year, so the next Poe comic may be a while down the road. But it's definitely down the road. I don't think Poe and I are done yet.
Can you tell us more about the "ongoing bi-monthly full-color comic series tied to a new feature film"? Are you scripting as well as drawing? Are you publishing this as well?
It's really exciting. The book is called Daddy Dumaine and it's directly tied to a new film called Connected coming out next year from director Brad Keller and Fireside Entertainment. I'm also working on the film. The script is written by William Peirson, a fantastic screenwriter who co-wrote Brad's last film, A Killer Within. I will not be publishing this one. Fireside is handling all of that.
It takes place in New Orleans. It's a wild story. Voodoo underworld. Artistically it's very different than anything else I have ever done. The whole look and design of the book is based on New Orleans Tarot cards and voodoo motifs/symbols. I get creeped out drawing it. The thing I love about the project is that it's heavily researched and based on the real thing — not the average or stereotypical presentation of voodoo or vodun.
Plus the characters are amazing. It's an adventure. I think it's going to turn out to be something really astounding.
Your first Poe-related projected (The Sound of Coming Darkness) was targeted toward an adult audience, while your second (The Tell Tale Heart) was geared toward adolescents. The Raven appears to be for an even younger audience. Was this an accident or by design? What was your intent when creating The Raven?
Some accident, some design. More than anything I think it's that I found an audience that was starving for something I was dying to do. I work with kids every day and I saw a hole that wasn't being filled.
I've spent the last few years really working on building a stronger academic curriculum for the students I teach. Kids are so much more intelligent and insightful than they get credit for. In my experience, they excel when you raise the expectation.
I was shocked when I started lecturing at middle and high schools, how much students today love the work of Edgar Allan Poe and how hungry they were for creative material that engages them as readers. I had always loved "The Raven" and wanted to do a comic book using the poem. I set out to create a comic book about Poe's "Raven" that expressed how I saw it but at the same time didn't dumb it down for kids.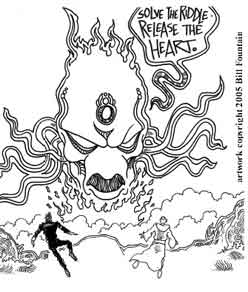 Your first two Poe works are long out of print. Are there plans to reprint them?
Definitely reprinting them. Both The Sound of Coming Darkness and Tell Tale Heart. When we go into the second printing of Raven, which is shortly, I am going to include some of the stories from the Mojo book The Tell Tale Heart and make the whole thing perfect bound. Maybe color. We are working on it. I am also including a more age-appropriate version of "The Tell Tale Heart" in the collection.
I recently completed a short film and screenplay version of The Sound of Coming Darkness that I want to eventually turn into a trilogy of graphic novels. There's actually three parts to the entire story, not counting "Cask of Amontillado" as a prequel. I love the look of the original Darkness so more than likely we will do a limited edition of the original graphic novel and publish the others as we can.
After your successful return to comics and Poe, will you be returning to some of your other dormant comic projects such as your Level Ground comic strip, Tamura (part of which is printed as "The Sleeping Glass Heart" on the flip side of The Raven), and the unpublished Final Cut?
There are a ton of dormant projects sitting there that I would love to explore. Level Ground ran as a weekly comic strip for over 20 years. I would love to revisit the characters at some point but probably in graphic novel form as opposed to another comic strip. Tamura will continue as chapters in every other book I publish, while I continue to make the other chapters as films. There are nine chapters in all that make up the whole story.
I've actually thought about trying to find a home for Final Cut with another publisher. It's a finished graphic novel I did about twelve years ago. There are also two completely finished graphic novels that I never shopped around. I don't know why. Back then I wasn't all that concerned with anyone seeing the finished product. I just wanted to draw!
How is producing comics different for you from ten years ago? Do you approach it differently? Do you rely on old tricks and techniques or have you invented/discovered new ones? Do you find those around you treat you and the work differently?
It's very different for me now. I do approach it differently. I think the biggest difference is that I originally produced my work in a vacuum, literally. No one saw anything until I was finished. Now I have family, friends and allies who watch the work in progress and I value the interaction and feedback.
My six-year-old daughter is really great at that. She can come in and look at a page I worked on all night and tell me what works and what doesn't. She has a great eye. My friends, wife and students are also a tremendous sounding board. It's great to have a support base like that constantly reassuring you that this or that is cool.
Over the last ten years working with a bunch of up and coming young artists, I have developed some techniques that really work for me creatively. I offer a workshop where I teach these tricks to kids. The techniques have opened up some amazing doors for me. I think I've really been able to tap closer to my creative source than ever before.
Do I find I am treated differently? Yes. It's wild what happens when people find out you have this whole other side to you. I have these incredible moments where kids at my school that I don't teach and that I don't know will bring me their drawings to look at and talk about. And in many ways, it has opened up new connections in my teaching. Students who might not have listened to me before when I was just the "computer teacher," sit up and take notes now that I am that "Raven artist." It's forced many of the students to rethink the labels, you know?
And more than any of that, the effect it has had on my own child is really incredible. She doesn't see anything as impossible. If Daddy decides to draw a comic book, publish it and take it around the world — boom — that is not impossible or even difficult. And if Daddy can do it, so can she! I love that she can see how to take an idea out of your brain put it into a form and show the world. She and I are working on a book right now that I am publishing next year. She wrote it and will be helping to draw it.
Are there other author's works that you'd like to adapt into either comics or film?
There is talk of taking our (David Goodwin and myself) puppet/live action theatrical production designs of The Martian Chronicles and turning it into a series of graphic novels, if Bradbury was cool with it. David has an amazing adaptation of the book and we have some really incredible designs for the whole thing. It would really be mind-boggling to work on, especially working with David on the artwork.
I have something in the works with a very famous musician and composer adapting some of his songs into a trilogy of graphic novels. I can't say more about that yet.
I would love to illustrate a Michael Moorcock or Jonathan Carroll or Chuck Palahniuk or Paul Auster story. If I ever had a chance to draw or produce any of their work, I wouldn't hesitate a second.
You've been dubbed a modern renaissance man. You're an artist, a writer, a filmmaker, and a critic. When someone asks what you do what is your response?
I usually say, with a straight face: "Whatever I'm interested in." To me, there isn't a difference in anything I do; it's all about the same thing, just different media of expression. Everything I do is related to creatively telling stories. And it's all interconnected. I think each medium offers something really unique and amazing so I try to use them to their ultimate effect. I'm working on designing puppets for a live action/puppet theater production of Ray Bradbury's Martian Chronicles, while working on an original graphic novel about Martians called Martian Requiem while preparing to direct a theatrical version of H.G. Wells' War of the Worlds next fall.
I go where the voice tells me to go. I am still learning to listen to my creative voice but I credit it with knowing what to work on next. It knows exactly where it's going. I don't. I've learned to surrender to it and it almost never lets me down. I love using a variety of mediums to explore an idea. It's wild to be drawing Martians while building and animating Martian puppets. And somehow it all falls into place. Don't ask me how. But it works.