Alabama's gaggle of RevolutionSF writers convinced ImagiCon, a sci-fi convention based in their hometown of Birmingham, to let them appear there. Survivor Joe Crowe offers a report from the scene.
This is only the second time that I've attended a sci-fi convention 20 minutes from my house. I can lazy-butt around until the very last moment.
Then I discovered that people have noticed that I am a slapass. This would never have happened with complete strangers at cons away from home. I host contests at my local comic book store Kingdom Comics, sometimes with questions written in the car on the way over.
I was set to host a trivia contest at the con, Fanboy Frak-Off.
When I got there early, they were stunned. Look, people. These naps are not going to take themselves.
I bought Van Plexico's Super Comics Trivia book, with 10 years of his Marvel vs. DC Jeopardy trivia games inside. The book totally punked out my questions, which were on loose sheets of paper. Not in book form.
Van signed it, "Look, Joe! Questions written in advance!"
Ouch.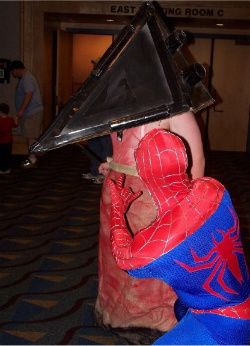 Our friend Matthew Crowson was Pyramid Head from Silent Hill. He was quite the hit with the ladies. Bloody butcher aprons and triangular torture helmets are the hip thing now.
Interlude: Joe vs. Crazy Guy on Sidewalk
A convention is not a convention until you have encountered some Random Crazy Dude. We were headed to the car, and some nut hollered, "Hey! Did you just pick something up and put it in your bag?"
This was not a typical aimless drifter-type nut, but a convention attendee nut. My first thought: Random Crazy Dude dropped something and thought I picked it up. So I said, "Did you drop something and think I picked it up'" And I showed him the bag in question, which did not contain this mysterious item he imagined.
Unless he thought I picked up out of the gutter a sweet Shazam action figure.
So he paused, unsure of himself, as crazy-ass thoughts no doubt raged in his head. This was my chance to take him down, as I am well versed in 1980s pro wrestling.
But then he stormed off and said "No! I'm just askin'!" Like I was the one who appeared out of nowhere and bothered him.
Random Crazy Dude Interlude ends.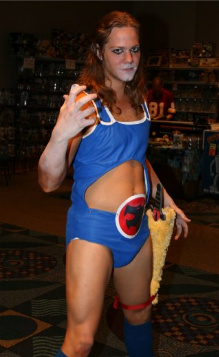 Quin Crowe, Queen of the Universe came along because she loves picture taking with costumed folks. Felix Silla, the guy who played
Twiki
and an Ewok, let us go on the escalator ahead of him. I love sci-fi conventions.
We appeared with my Assembled! co-writers Van Plexico and Dave Wright on a panel about Avengers comics. We were about to talk about the upcoming Avengers movies, then an alarm went off. Someone's Human Torch costume must have gone awry.
So several thousand mostly black T-shirted people exited the building all at once. We escaped to Subway (the restaurant, not the underground travel method).
Quin helped me add up scores at Van's Marvel vs. DC Jeopardy. Then we gave out comic books and candy to the losers.
Then we made the epic 20-minute journey home, victorious and full of DVDs, action figures, and big chocolate chip cookies.