Our discussion of Renaissance painters and their influence on ninja turtle culture now turns to Teenage Mutant Ninja Turtles.
2009 is the 25th anniversary of Teenage Mutant Ninja Turtles. A new Ninja Turtles movie is coming in 2011. Thank goodness!
The movie is live action, not all CGI unlike 2007's TMNT . It will focus on how the Turtles got to be mutant and ninja. Duh. They were "transformed from the norm by the nuclear goop," as we all remember from Partners in Kryme's tender, touching ballad "Turtle Power."
Lots of toys and cartoons from the 1980s have been around since, um, the 1980s. TMNT has a super-nerdy pedigree as a black and white indie comic book done by two guys, that you could only find if your town had a comic book store.
The career advice we learn from the Turtles is as follows:
1) You and your buddy crank out a black and white comic book.
2) Make 100 bazillion dollars.
The key to enjoying the Turtles movies was that some poor bastards were trapped in those suits. Trapped like rats in turtle suits.
If they do not get Vanilla Ice to do an anniversary edition of "Ninja Rap ," I will riot.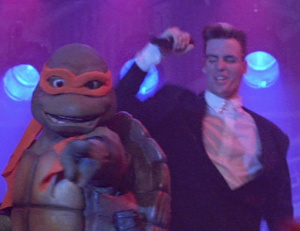 To celebrate the 25th, the Empire State Building will be lighted "turtle green."
How do you like that, Star Wars? When the Star Wars anniversary rolled around, they didn't light up the Empire State Building "Jedi brown".