RevolutionSF Contest: Win Surrogates Movie Stuff (Now With Winners)
© RevolutionSF
September 21, 2009

Congratulations to our winner! You are a credit to your robot makers.
In the future, we hang out at the house, while good looking robots live our lives for us.
Everything looks pretty good. That is, except for the murder.
In Surrogates, Bruce Willis and Radha Mitchell investigate a murder in a future where people experience life from the safety of home, while connected to good-looking and unflawed robot versions of themselves.
Now you can win Surrogates stuff from RevolutionSF!
For more about the movie, here is the movie site.
Win These
If RevolutionSF picks your contest entry,
three winners
get:
Surrogates USB charger
Surrogates windbreaker jacket
Surrogates laptop bag
Not available: Handsome robot body to do everything for you.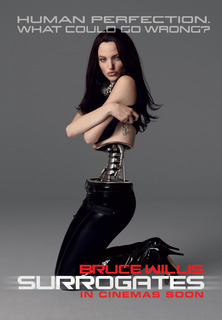 Check out RevolutionSF's somewhat irreverent review of the Surrogates movie trailer.
Here's something to read while you're waiting in line for the movie: our review of Flesh and Bone, the new Surrogates graphic novel. And here's an interview with Surrogates comic book creators Robert Vendetti and Bret Weldele.