Sci-Fi TV Not Not on DVD: Man From Atlantis, Roddenberry, Mighty Mouse
© Joe Crowe
October 13, 2009

Sci-Fi TV Not Not On DVD showcases sci-fi TV that makes the unlikely leap from sci-fi convention bootlegs. See what you make us do, TV people? I blame the system for keeping these shows away from us.
Man From Atlantis
This is very cool. Warner is releasing the 1977 pilot movie on DVD "manufactured on demand." You buy one, then they make it. Here's a story
about that
.
And here's where you can buy it.
It's not in a fancy DVD set in a store, but it's also not a fourth-generation burned VHS copy at a sci-fi convention bootleg table.
Um . . . but I would not know anything about that.
This is one of the first shows that enthralled me as a TV-addicted 1970s yute. It had a guy doing superhero stuff in live action. The best part was his webbed fingers and toes. I was sure that my fingers were also webbed. But it turns out I'm from Alabama, not Atlantis. Bummer.
The villain is Victor Buono, King Tut from Batman. He appears to be a kindly scientist, but of course he's evil. Then the Man from Atlantis puts a mind control collar on him and makes him blow up his own undersea lair.
Sure, Patrick Duffy is more famous for being Bobby Ewing on Dallas. But Bobby never swam dolphin style. I never understood that. It's hot in Texas.
Here's a clip from the show: That dude can swim.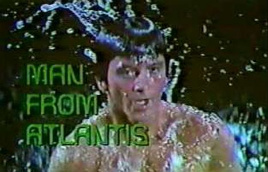 Gene Roddenberry's Genesis II and Planet Earth
After
Star Trek
Gene Roddenberry whomped up other sci-fi series that didn't make it. These are two of those.
Genesis II
is from 1973 and
Planet Earth
came out in 1974.
Neat trivia about that is in this story. Both shows' concepts were later used in the Kevin Sorbo epic Andromeda.
Buy both shows together here
Here's a clip from the show: Dig the sliding doors.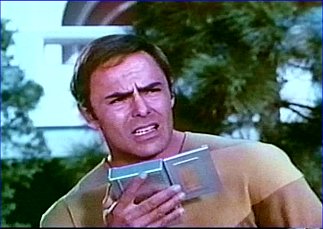 Ralph Bakshi's Mighty Mouse
These were on CBS on Saturday morning in 1987, years before cartoons appeared on the promised land of cable.
Mighty Mouse: The New Adventures
was ahead of its time. It was clever and irreverent.
So it aired three or four times, then my local channel replaced it with bass fishing.
No buy link yet, but here's a story about the DVD set.
Legendary animator Ralph Bakshi's name on it is a big deal (he did the sci-fi cartoon Wizards and the beloved / hated Lord of the Rings.
RevSF's Jayme Blaschke said, "Mighty Mouse is the single best thing Bakshi ever did. Such tight content and budget restrictions forced him to concentrate and not wander off into incomprehensible lunacy."
The show is also a trivia footnote for early work from animators Andrew Stanton and Jim Reardon from Pixar, and John Kricfalusi, creator of Ren and Stimpy.
Here's the show intro. Sure, it's no Andy Kaufman. But Mighty Mouse punches a meteor.