Trailer Probe reviews movie trailers so you can spend your Internet time wisely. That's why you have the Internet, right?
Geek explosion content:
Randy Newman makes every movie better!
Comedians Paul and Storm totally nail Newman with "Randy Newman Sings Movie Songs."
That's the only reason I put Newman in the "geek explosion" section.
It's good to see all the Toy Story people again. There are funny parts at a day care with babies and the toys. The Potato Heads and Buzz have some good lines. But . . .
Dork disengagement level: We have to sit through two minutes of happy childhood scenes, followed by the Toy Story kid being sad about growing up and leaving his toys behind.
And that's just the trailer. I dread how sappy and tear-jerking that part of the movie will be.
I have an idea! Let's take the fun parts of childhood and be maudlin and miserable about it!
I thought this was Toy Story not Winnie the Pooh.
Good grief. Does the dog die at the end, too?
Geek explosion level: 500,000 geek parts per million. (500,000 for the fun toy parts, but the rest is a total bummer.)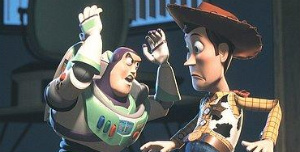 "Home Improvement IS TOO funnier than Bosom Buddies!"