Universal Studios Theme Park: Jaws, Twister, E.T.
© Joe Crowe
January 28, 2010

The Universal Studios theme park is like Walt Disney World, the same sweaty crowds and pricey outrageousness. Universal's stuff is based on movies that we freely admit we like, instead of Disney stuff that we pretend we don't.
Movie soundtracks and sound bites play throughout the park. I'm pretty sure I heard the Ghostbusters line where Bill Murray says "ass," booming over the loudspeakers.
In 2010, a Harry Potter area debuts. We are totally going. I want to pretend to be a teenage wizard in public, for a change.
Jaws
We walked through a town, with news broadcasts telling us there had been no danger from sharks since the first movie. They don't mention later attacks on Louis Gossett Jr. in
Jaws 3-D
, or even
Jaws 4
. That time, it was personal.
We got in kind of a real boat in kind of a real lake, and our master-class theme-park actor put on a showcase. I admire that the pilot drove the boat, acted, and saved us from the shark.
Here's a video of a boat pilot who overacts awesomely. Good stuff. Way better than our driver.
Our driver shot at Jaws and said, "hurry we have to hurry back to the dock oh no here he comes again."
If you were on the the correct side of the boat, you got to see the shark up close. If not, you got nothin'.
Then our boat pilot said, "Oh yeah hurray give yourselves a hand we are all heroes thanks for taking the tour."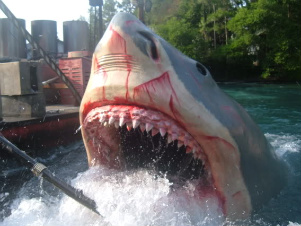 "don't worry folks there's been no attacks since 1974 and oh my god what's that is that a shark."
Twister: Ride It Out
That's my favorite name for any of the things at Universal. It commands you to take action.
Bill Paxton and Helen Hunt talked about the movie on split-screen, probably so they wouldn't have to work together again. My favorite part was watching one actor while the other talked. The non-talking one stared intently at where their costar was supposed to be. Silent. Reverent. Deep in thought about nature's violent fury.
The Twister ride was really a Twister stand. They took us under a shed in a room. Then in the middle of the room appeared a loud, huge funnel cloud indoors. If you survived, you got a free pen.
Beetlejuice's Rock 'n Roll Graveyard Revue
Beetlejuice and the Universal monsters wear leather and shades, because that's how rock singers dress at theme parks. Each monster tweaked songs to match their inhuman freakishness. "Wild Thing, you make my heart scream." That kind of thing.
The monsters made a pass through the audience, trying desperately to get the audience to clap along with them.
Beetlejuice was such a neat movie. Now he's an amusement park stooge. "These guys are funky, oh yeah!", he said, several times.
I said his name three times over and over again, and he wouldn't go away.
Terminator 2 3-D: Battle Across Time
Arnold Schwarzenegger, Linda Hamilton, Edward Furlong, and Robert Patrick reunited years before they didn't reunite in the two new
Terminator
movies. The liquid metal Terminator 3-D stuff is excellent. I expected nothing less from the future portrayor of John Doggett on
X-Files
.
Men in Black: Alien Attack
We were forbidden from flash photography, even though our real-life camera flashes don't work like the amnesia pens in the movie. Duh.
We used Laser Tag guns to shoot aliens that popped out. Then the Fresh Prince appeared on a screen and zapped us with the amnesia pen. Being rejected by Will Smith left us downtrodden.
Woody Woodpecker's Kid Zone
We didn't play here because our young'un, Quin, Queen of the Universe was not born yet. I can't wait to take her to Woody's Nuthouse.
E.T.'s Alien Adventure
If they made the
E.T.
movie sequel, I'm afraid it would be like this. The director of
Schindler's List
Mr. Steven Spielberg was on video, announcing that we must get E.T. home on space bikes.
Old alien Botanicus tells E.T. his home planet needs E.T.'s magic finger. To get our Space Passports, we told the attendant our names. That would be fun later.
When we got to E.T.'s planet this thing went totally off the rails. I don't mean I fell off and got crushed by animatronic aliens. That, at least, would have made sense.
Here's a ride video. You might want to get goofy on Reese's Pieces first.
When we got to the planet, a talking mushroom boomed "Hello, E.T.!" So E.T. isn't a name El-li-ott came up with. It's his real name. Then E.T.s of all shapes and sizes shook their leathery cabooses to Jamaican carousel music. Then the Space Passports came into play.
E.T. himself said "Good . . . bye" to everyone. By name. My wife Stefanie's name is three syllables, which was fun. E.T. said "Good . . . bye . . . Stef . . . uuuuuh . . . nee."