No lie. Universal Studios' Islands of Adventure emphasizes the importance of reading. Seuss Landing is about Dr. Seuss, the best kids' books ever. Marvel Superhero Island is about comics. Toon Lagoon is about the alleged newspaper "funnies" and a couple of TV cartoons. Jurassic Park was a book first. That's why they put it with all the book stuff. Surely.
Toon Lagoon
We skipped the Dudley Do-Right water ride, since we already had prune hands.
Water parks with white-water rides are just the best. You sit in a big tub, and you're hurled down not-very rapid rapids, bounced off walls, and then you get the Gulf of Mexico dumped on your head.
Toon Lagoon's water-torture ride has statues of Popeye and Bluto on the shore, with their cartoon dialogue issuing from speakers while you get waterboarded.
Otherwise, Toon Lagoon is picture taking spots and gift-hoarding areas based on newspaper comic strips. It has old-timey funnies Gasoline Alley and L'il Abner, and strips that should have vanished 50 years ago such as Beetle Bailey.
There's an ice cream shop dedicated to the self-loathing Cathy, so park goers can have a poor self-image, too.
On top of the store, 15 feet tall, is Cathy in a swimsuit. With her legs bowed out, showing off her inner thigh.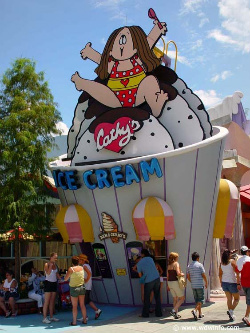 I will never sleep soundly again.
They have wandering cartoon guys in suits, which I love. The Bullwinkle guy wears a red sweater, not full frontal moose nudity like on the cartoon. Yet partner Rocky flaps in the breeze with nothing but goggles.
Bullwinkle carried a baton, to keep Rocky in line. We saw a little girl put the baton in Bullwinkle's mouth for her photo, then she trotted away happily.
However, the guy in the Bullwinkle suit could not move the arms on his costume. He could not get the baton out of his mouth. Bullwinkle's moose-costume head was expressionless, but we could sense his mute desperation.
Jurassic Park
This area looks like what crazy professor John Hammond in the movie wanted his Jurassic Park to be. That foreboding Jurassic Park gate from the movie was the entrance. The snack shops were named with dinosaur puns: Natural Selections, Fossil Fuel, and The Food Chain. I was not amused.
The Jurassic Park River Adventure is in a high-tech building plopped in mid-jungle, like in the movie. You hop in a boat, and float through the woods past plant-eating dinosaurs, until you take a wrong turn. Unlike the Jaws ride, dialogue is on a pre-recorded speaker. Sadly, that meant we didn't get more Universal carnies and their sweet acting skillz.
In the Triceratops Encounter, there's a real live Triceratops! Its animatronic goodness is only two feet away from you. This was the closest I've ever been to animatronic technology, and I still can't tell how it works. Humans will someday bow before our animatronic overlords, but at least it will look cool.
In the "Encounter," a veterinarian examined the Triceratops. My dad did years of post-grad study before he became a veterinarian. Now they give the degrees out to 17-year-old girls.
Old coot John Hammond himself, live and in person, talked about the Triceratops. I'm so glad in today's economy there are still jobs for Sir Richard Attenborough impersonators.
Lost Continent
I felt like I stepped into a Forgotten Realms supplement.
We ate huge turkey legs at the Enchanted Oak Tavern. They even had authentic bags of that Old World delicacy, Skittles.
The Eighth Voyage of "Sindbad" stage show was spelled that way so people would not think wacky comedian Sinbad was there, telling everyone how men and women are different.
It was a stunt show, with "Sindbad," a princess, an evil queen, and thugs, all wearing genie pants.
The wacky sidekick said "Whaaaasuuup" often. This was a few years ago, but it was still long after the "Whaaasuuuuuup" thing.
Dueling Dragons
Victims of this ride choose the Fire Dragon or the Ice Dragon. It's two different coasters. The rides happen at the same time, and they said it looks like the coasters are going to collide with each other.
I rode neither, because I am kind of a wuss. So there I stood, a camera-toting punk, while my beautiful wife risked her life.
She reported false advertising. The coasters never came close to hitting each other. She was disappointed. My wife is a badass.
Seuss Landing
Seuss Landing is the most wonderful place on Earth. In your face, Disney. If you do not love Dr. Seuss, you are a cold, unfeeling automaton.
Seuss Landing looks like it sprang right out of Seuss's freaky imagination. Everything is colored in yellow and pink and green. There's a restaurant where you eat green eggs and ham. Just like Waffle House, but on purpose.
The Cat in the Hat ride acts out the whole story animatronically, with everyone in the book, including the effete, bitchy fish and the hell-beasts Thing 1 and Thing 2.
Disney World has the grinning princesses, mice, and ducks gadding madly about. Universal has Bullwinkle, Wolverine, Bluto, and the Grinch. Universal wins.
It must be hot inside those suits. Every character had an attendant, and they appeared for photos, then vanished through a backstage door after 10 minutes, presumably to be hosed down.
My wife and I followed the Grinch. When his shift was up, apparently he wasn't near a hose-down station. So he walked the length of Seuss Landing to get there.
He walked by a couple gazing at McGonnigle's Pond. The Grinch walked past the lady, and WHAP!!! He smacked her in the back of the head with his huge paw.
Then he kept right on walking. Damn straight. What could she do? He's the Grinch.
The poor jerk in the Mickey Mouse suit doesn't have that freedom.