Campy, over-the-top goofiness is OK by me. But there are only moments of that in Mansquito, not at all enough to sate my desire for extra cheese.
With a name like Mansquito, it's got to be good.
That's what I thought.
I just like saying it. "Mansquito."
Mansquito means guy-in-monster-suit action. Mansquito means puns on the name throughout. Maybe "He's a mutated mosquito! That sucks!"
But no. For some reason, the movie plays the whole thing completely straight.
Guy gets mutated, goes on killing spree, cop goes after him, they fight. It could have been a human serial killer. Or a different animal, such as a Guynoceros or a Caribou-Dude.
The thing in the suit administers some gross deaths, but I expected at least that.
The title Mansquito is just wasted. It should have been called something appropriately middle of the road. Insectoid or Man-Bug or Not Mansquito.
They should have set the movie in my home state of Alabama, and called it Man-Skeeter. But nobody asked me.
The hero is Corin Nemec, Parker Lewis from the sitcom Parker Lewis Can't Lose.
He showed on Parker Lewis that he had an absurd self-aware way with comedy. That would have been perfect for winking at what went on here.
But he plays everything straight and boring. White bread, hold the cheese. Nemec would be the poor man's Eric Stoltz, if Eric Stoltz wasn't already the poor man's Eric Stoltz.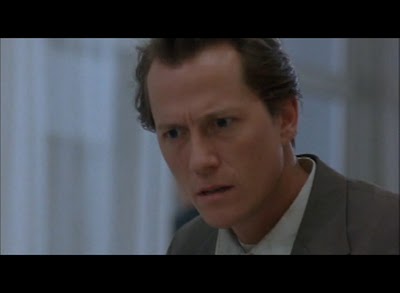 You and me both, buddy.
The only good thing about the whole two-hour movie is one scene.
Mansquito is stalking the girl, and Parker Lewis picks up a flamethrower.
He hollers, "HEY! MANSQUITO!"
In only two words, that was everything that should have been right about this movie.
Then the monster turned around. It knew that its name was Mansquito.
"Mansquito? Is he talking to me? I don't see any other Mansquitos around."
I do not buy the explanation that he turned around because he heard a sound. He was in a burning building with destruction afoot. The sound of one dude yelling would not have been distracting.
I don't turn around when people say "Hey, Ted!"
The thing knew his name. That rules.
I want some tongue-in-cheek cheekiness with my cheese. With the name Mansquito, I do not expect concerted efforts at acting or dry melodrama.
It's out on DVD. But they changed the title. No, seriously.
They changed the excellent, excellent title to Mosquito Man..
That is lamer than doing a movie where a guy turns into a mosquito. They didn't pimp it in the movie, they didn't own it on the DVD.
But now, some other movie can come along and do justice to the name Mansquito.
I wonder if now Parker Lewis yells, "Hey! Mosquito Man!"
Maybe he still yells "Hey, Mansquito!" That would be true to the honor of Mansquito.
Where Are They Now?
Corin Nemec
played serial killer Ted Bundy. Quite a step up.
Director Tibor Takacs: Directed Kraken: Tentacles of the Deep. Quite a step up.
Matt Jordon: The guy in the Mansquito suit was a caveman in the terrifying sitcom about the Geico Cavemen. Not a step up at all. Not even a sarcastic one! It's a Mansquito Curse!