Superhero Movie Probe grades costumes in superhero movies. We study the good parts (geek explosion content), the bad parts (dork disengagement level), and grade them for overall nerdy excellence (geek parts per billion.
Green Lantern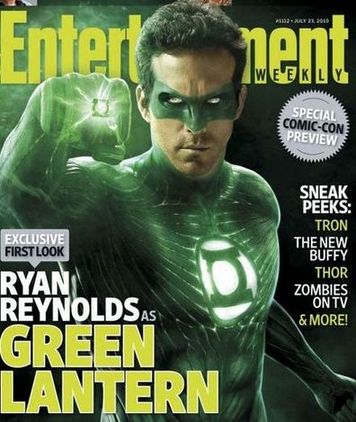 Dork disengagement level: The mask.
I find the mask irksome. The mask looks like some guy at a convention who painted a green mask on his face.
In space with other Green Lanterns, the mask serves no purpose, except to make aliens wonder what that green crap is on the human's face.
On Earth, sure. That three inches of mask over Hal Jordan's eyes and nose will fool everyone.
Geek explosion content:
He's got green stuff in his hair. Could be an an effect of the green light. The awesome green light.
Having a tiny mask is the best thing for an actor. He doesn't have to rip the mask off like Spider-Man or show his face inside a helmet like Iron Man.
I like everything else. The big Green Lantern symbol. The green lines. The Green Lantern costume in a movie Lordy Pete I'm freaking out.
Entertainment Weekly has a few more photos, but this is the best one. I might weep.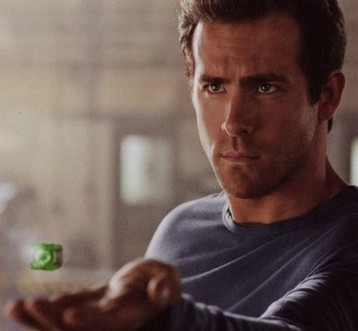 There's the ring! Floating! My mind is going . . .
Geek explosion content: 800,000 geek parts per billion.