RevolutionSF's Trailer Probe grades nerd-related movie trailers to help you spend your nerd time more knowledgeably.
Dork disengagement level:
I got nothin'.
Wait! I got one.
A Sharktopus cannot survive on land! Sharks can't and neither can octopi! That is scientifically inaccurate! How dare you, sci-fi monster flick? How dare you.
Geek explosion content: The theme song! The band's name is Cheetah Whores. What a coincidence! That's my mom's band's name!
Here's the whole theme song, minus the Sharktopus trailer.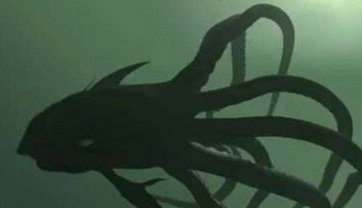 "Sharktopus won't be kept at bay. And you can never, never get away." That is so moving.
My favorite part is when Sharktopus drags a bikini girl off the beach into the water. That's my biggest fear of the ocean right there.
Eric Roberts is usually crazy, but here he's doing it on purpose. He's the only one in the trailer who is not screaming, but he still has the best line.
"Greatness comes at a price. It always has."
Final grade, in geek parts per billion: 850,000.