RevolutionSF Has An Opinion : McDonalds, Marvel vs. Killjoys
© Mark Bousquet
August 15, 2010

It's bad enough that McDonald's wants your kids to eat deep-fried potatoes that have been cut into long, thin slices, and dip pieces of allegedly-chicken in vats of allegedly-barbecue sauce, but now they want to incite your kids to violence. Failing that, they want your child to light himself on fire.
It's true: the killjoys at the Campaign For A Commercial Free Childhood say so. And they don't hate anything.
Look, I'm all for protecting one's kids and the CCFC's goals of nurturing healthy children is commendable.
But like most niche organizations (the PTC, PETA, the NRA: I hate across political borders) they go way, way, way, way, way, way, way, way, way, way, way, way, way, way, way, way, way, way, way, way, way, way, way, way, way, way, way, way, way, way, way, way, way, way, way, way, way, way, way, way, way, way, way, way, way, way, way, way, way, way, way, way, way, way, way, way, way, way, way, way, way, way, way, way, way, way, way, way, way, way, way, way, way, way, way, way, way, way, way, way too far, ignoring logic and rationality for cheap fear-mongering.
What these organizations do is find anything that allows them to hammer at their core message some more in the hopes of getting the media to pay attention to them. It doesn't matter how many silly blogs (um . . . ) or mainstream media outlets mock them for their leap away from the logical or reasonable, it just matters that they can continue to get their base riled up.
There are real, serious issues here, from the actual existence of McDonald's food right down to how they market it to children, but organizations like the CCFC aren't interested in debate when they can selectively choose any old thing that serves their agenda and act like it's a sign that someone, somewhere is personally responsible for the Apocalypse.
The standard line of thinking is that it's best to just leave these idiots alone because by talking about them you're giving them exactly what they want –- a new platform to push their agenda.
Screw that. In the long run, turning a blind eye to the nutbags among us empowers them more than mocking them will ever do because it allows them to build their base without opposition.
"It's hard to believe," they say, even though we all know they don't really mean it's hard for them to believe this, at all, "but McDonald's Happy Meal toys have hit a new low."
Why' Well, because they're now coating their chicken nuggets with LSD. No, wait, that's not it. Let's let the CCFC speak for themselves:
"The fast food giant's latest giveaway for preschool boys features eight Marvel comic action figures. One, The Human Torch, is a man engulfed in flames. Another, The Thing, menacingly roars "IT'S CLOBBERIN' TIME!" at the press of a button."
And they coat their nuggets in LSD?
"It's bad enough that McDonald's relentlessly uses junk toys to sell children on junk food."
Oh, so you'd be okay with it if they were using non-junk toys to sell children on junk food? Like, if they were giving away dictionaries with their Happy Meals, you'd be all, "McDonald's is awesome!"'
This is the part that always drives me to clobberin' time. (Although, don't worry, CCFC, my clobberin' time means strategically punching my keyboard to string letters into words and words into sentences, and not going out and clobberin' bad bad people to save the planet from destruction.
Screw that. I might scrape a knee and then use a Band-Aid with a picture of the Hulk on it, and you'd still be all over my butt.
If you want to hate on McDonald's for selling unhealthy food, then go for it, but endlessly jumping on this promotion or that promotion to fear-monger is a cheap political stunt. Look at their rationale:
"It's awful that this giveaway continues the troubling trend of fast food restaurants promoting toys linked to violent PG-13 movies."
The toys included in this set are: the Silver Surfer, the Human Torch, Spider-Man, Wolverine, Captain America, the Thing, Iron Man, and the Hulk.
While all of them have been featured in movies over the past several years (the Silver Surfer's movie Fantastic Four 2 was rated PG, not that the CCFC actually cares), the promotion isn't tied to any specific film.
If anything, the promotion is linked to Marvel itself as a means of advertising the Marvel Comics brand, but these characters have existed in the comics for decades and a press release that says, "Marvel Comics still publishing comics about a man on fire" generates no media attention.
Comics seem to be beyond the care of the CCFC. If you use the site's search engine to look for "comics," all you get are links to stories about other promotional tie-ins.
"And it's terrible," they continue, "that McDonald's, the leading distributor of toys in the United States, relentlessly perpetuates the worst gendered stereotypes with its Happy Meal giveaways. During the current promotion, boys get violent action figures with their burgers and fries, while girls are offered cutesy animals that, bizarrely, come with hand bags."
I agree with this. Girls should be able to get a Hulk toy, too. Oh, wait, they can. You mean McDonald's doesn't force your girl to take a girl's Happy Meal, even though they offer these outdated gender-stereotyped packages? What a bunch of equal opportunist, men-on-fire asshats.
And how about generating a bit of hate for including no female action figures in the collection? Clearly, by not offering female toys, McDonald's is encouraging kids to imagine that male action figures will only want to sex other male action figures, and we should be encouraging kids to imagine that it's okay for male action figures to want to rub plastic with any gendered action figure they want.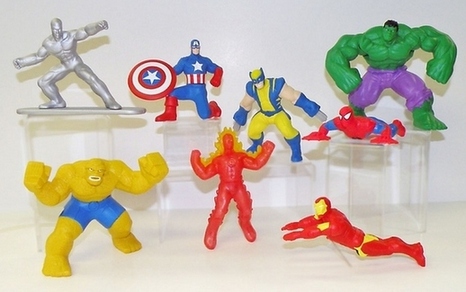 Kids, do not paint yourself silver and surf through the galaxy.
What kills me the most, I suppose, is that the CCFC could make a logical, reasoned case that some of these toys shouldn't be included.
Historically, Wolverine kills people, is good at it, and brags about it. If the CCFC actually cared about kids and not simply masturbating their own egos, they could probably whip up a convincing argument that, you know, Wolverine is not the best choice of a character to be put in the hands of little kids.
Of course, that might lead to an actual debate about how comics characters can and should be marketed to different audiences. Can Wolverine never appear outside of the main Marvel Universe, repackaged in kid-friendly programming, because he's killed a bunch of bad guys over the years? That's a debate I'd be interested in not only seeing but participating in.
Or what about making the case that while you're okay with six of the eight toys, there are two that trouble you? Instead of suggesting that "If clobberin' time is McDonald's idea of family fun, it's time to steer clear of the Golden Arches," you encourage your flock to steer clear of Fire Man and Clobberin' Time Rock Guy and only purchase American Flag Person and Androgynous Surf Entity?
Yeah, I'm just being silly.
It's much harder to jerk off your own ego if you have to listen to someone else.