Trailer Probe watches nerd-related movie trailers to help you waste your computer time wisely. Geek explosion content is reasons you will like it, dork disengagement level is why you won't. Geek explosion level is from zero to a billion, regarding total nerdy enjoyment.
Dork disengagement level:
"Your fight for survival starts right now." And . . . techno music!
If you like staring at your monitor for what seems like hours while a tiny counter ticks up to launching the site, then Sucker Punch is for you.
It's directed by Zack Snyder, who directed Watchmen. I wonder why there is no mention in the trailer about "the visionary director of Watchmen."
They must have run out of names at the movie naming store. There is no one in the movie named Sucker or Punch. Maybe someone in the movie receives a sucker punch. Maybe the sucker punch is for the critics who think this movie will be terrible and it turns out to be excellent.
Geek explosion content: A crazy girl is forced to do a Moulin Rouge burlesque show. Then she and other lingerie-wearing girls fight a giant samurai and a dragon.
Some things that appear to be awesome in a trailer are not an indication that the movie will be awesome. But that is not the concern of the Trailer Probe.
In about one minute, this trailer has a girl from High School Musical shooting a machine gun. Another girl fights a giant samurai. And it has a dragon. That looks awesome.
Geek explosion level: 800,000 geek parts per billion.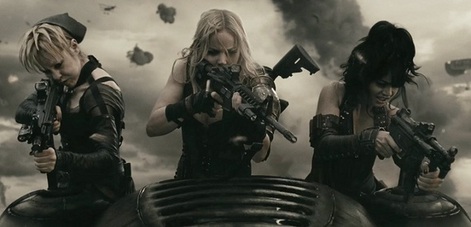 Eat hot lead, Camp Rock!