It's not often a graphic series comes along that makes me feel like haunting my local comic shop on roll-out day, eager to be the first to get my hands on the latest issue. The Molting is that kind of series. After reading the first four chapters, I want to own each one, new, as it's released.
If you think Terrance Zdunich is just a pretty face, or a great set of lungs, get ready to see another side of the GraveRobber. He created the comic book-style panels that set the stage for Repo! The Genetic Opera and he did storyboards for movies and TV for over ten years. With The Molting, a 12-part limited series, Zdunich's artistry is available in a form you can hold in your hands.
The story scuttles up and peers into the life of Susie Pryzkind, beginning with the cataclysmic loss of her first family at age twelve, through her adult life as wife and mother and beyond. Perspectives, from her teen son Joseph to the rarely seen but ever-present cockroaches, show that Susie's family is hostage to her mood swings, and possibly to some weird power of which she may not be aware.
The spare illustrations, filled with Brian Johnson's complex color, drew me in from the first page. I found the depiction of non-verbal sounds particularly engaging. Letterer Oceano Ransford puts onomatopoeia to paper with such a precise ear that you almost hear the sound of a blatting VW motor or the clatter of the mixer ball inside a spray paint can as you read.
Add The Molting to your reading list. I need to know what happens next for the Pryzkinds. And so will you. -- Rebecca Panovich
Zdunich interview
Terrance Zdunich is an amazingly creative guy and I look forward to seeing what the next batch of rabbits gets pulled from his hat. -- Matt Cowger
Matt Cowger: The Molting is, wow, it is something else. Can you talk a little bit about how long it has been gestating? The story has the feel of something that has been on simmer for a while as things mixed.
Terrance Zdunich: More daunting than the amount of time put into The Molting thus far, is the amount it'll take to complete the 12-part graphic novel. I generally work about 10-hours each day on The Molting, and try to draw and ink at least a page a day. And drawing and inking are just two of the many steps involved with getting the full-color issues into the hands of readers! I estimate the series being over 500-pages when completed, and, as of now, only 200 pages are done. I knew The Molting was going to be a difficult beast when I began it, so I spent a lot of time working on the story before drawing a single panel. I wanted to make sure I was in love with the world and characters before committing to what will most likely be 3-and-a-half years spent hunched over a drawing table. September 15 will be the year anniversary of the release of issue #1. We're up to 4 now, with a new installment released about every 3 months at The Molting Comic.com.
MC: The comic is pretty much self-published, right? You didn't go with any of the big or indy labels.
TZ: That is correct. After spending so many years working on Repo! with so much of that time spent navigating the politics of the Hollywood system, I wanted -- nay, NEEDED -- to focus my energies on art, on the aspects of creation that made me want to be an artist in the first place. With The Molting, I had a story I wanted to tell, so I went about telling it and didn't wait for approval from a big studio or publisher. I'm not opposed to collaborating with a major label on The Molting; I just haven't explored this route yet. My focus has been about getting the story out of my brain, onto paper, and into the world, but The Molting is still in its infancy, so who knows where the road will lead. In the meantime, I thank everyone who has been supporting my indy efforts. The Molting would not survive without you.
MC: Do you have the full arc of the story planned? How about spinoff characters in stand-alone issues?
TZ: I penned the entire 12-part story before beginning the drawing phase. Minor script changes happen along the way, of course, but for the most part, the story is set. The Molting is largely Joseph's story. He's an artist trying to survive in a very hostile world. It might be interesting to explore this world through the eyes of his older, more aggressive brother, Trevor, at some point in the future. For now, however, I've got my hands full telling Joseph's story.
MC: You wander back and forth through time some in the comic, is this to set sort of a larger psycho-historical sort of background for the more immediate story?
TZ: I wanted The Molting to feel at once commonplace and mythic, a tale of an everyday family that somehow seemed legendary. The story jumps around in time to demonstrate how the seemingly banal routines of the Pryzkinds are actually rooted in something grander, something epic.
MC: I like the generational aspects of the story, it gives it a sort of Clive Barker-esque feel (to me at least). Will we be seeing any of Abe's side of the family tree?
TZ: We learn more about what each of the characters are made of, including Joseph's hippy father, Abe. There's a touching scene between Abe and Joseph at the end of the upcoming issue 5, "Mother's Day," where Abe offers his own bizarre brand of fatherly support. "Mother's Day" will be available early October at The Molting site.
MC: You made some interesting choices with the artwork, both stylistically and in terms of panel layouts, etc.  What percentage of that look comes from you vs. Brian or Oceano?
TZ: I'm essentially acting as director. I draw and ink each page and then hand them over to Brian and Oceano to work their magic. They take my B&W spreads and bring them to life with color and words. Both of them are great at what they do, and have elevated the project in a way that I could never have done on my own. I'm excited to announce that a new colorist, Molly Rodman, is joining team Molting for issue 5.
MC: How has fan support for the comic been in general?
TZ: Fan support for The Molting has been great thus far, and the project has been receiving some pretty stellar reviews from critics. Fans have also been creating The Molting fan art, some of which can be viewed at the Molting site. That said, the indy road is always a tough one, especially with comics. It's asking a lot of readers to stay loyal to a story that's slowly unveiled over years. I'm very proud of the work thus far and feel that the best is yet to come, so a big thank you to everyone for being so supportive. If you haven't yet checked out The Molting, but enjoy dark, twisted tales with human cores, I invite you to check out the series. It's available only at The Molting Comic.com..
MC:
Where did The Tutor project come from?
TZ: The initial idea sprung from frustration. I was frustrated over being seen only as a performer, due to my role as Grave Robber in Repo! and not as an artist. Don't get me wrong, I love GraveRobber, but I was often met with blank faces whenever I'd tell fans of Repo! I was drawing a comic book. With The Tutor, I wanted to create a vehicle that bridged the gap between Terrance the performer and Terrance the artist. I'm happy to say that that The Tutor grew into something much bigger, and cooler, than its frustrated, narcissistic origins. The Tutor's director, Shem Andre Byron, and I are also extremely proud that our "killer" art course is inspiring others to create. So much so that we're hosting a gallery showing of student work in Los Angeles on October 23. Check it out.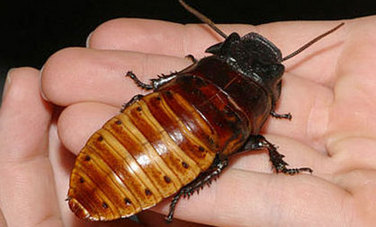 Zdunich keeps these as pets.
MC: Again with the cockroaches? Don't they get into the paint?
TZ: I think I may be branded The Cockroach Guy for the remainder of my days. I'm OK with this. The cockroach motif started with my website, continued with The Molting (roaches infest the walls of the Pryzkind home), and was solidified with The Tutor. In The Tutor, roaches act as my teacher's assistants. I enjoyed working with the little guys so much that I now keep several Madagascan hissers and Blaptica feeder roaches as pets. I regularly journal about my continuing adventures with these 6-legged houseguests on my blog.
MC:Have you seen improvement in any of your pupils over the course?
TZ: Yes, and there's no greater validation as an artist than to know that your work is inspiring others to create. I often received letters from folks who never considered themselves artists before the class, but now want to continue drawing and painting. Most impressively, a good portion of The Tutor's students are developing their own artistic voices. In other words: they aren't merely imitating, they're creating. I went to a fancy-schmancy art college and most of my colleagues there didn't have independent voices. The work created in The Tutor's class is bold, courageous, and just plain cool. You can view student work and learn about the class at at the Molting blog.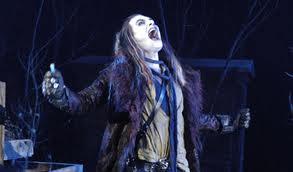 Zdunich as the Grave Robber.
I would be remiss if I didn't at least ask a couple of
Repo! The Genetic Opera
questions. Can you give a quick breakdown of the origin of
Repo!
from idea to film?
TZ: Sex, drugs, and opera, and a commitment to this unholy triumvirate.
MC: You got together a pretty amazing cast, did that take a lot of finessing?
TZ: Surprisingly, no. Repo! is such a wacky project, especially on paper, that actors generally fell into 2 camps after reading the material: "sign me up!" or "don't ever call me again."
MC: Would you do anything differently on it now, now that some time has passed for you to see it many, many times, I'm sure.
TZ: Yes. Even though Repo! has received some pretty horrendous reviews, I'm generally my own worst critic. There are a lot of things that I would chance. That said, I'm extremely proud of the project and feel that many of the things that I see as flaws have actually given live Repo! shadow-casts around the world bait to make their shows better or, at the very least, funnier.
The future
MC: Any new projects on the horizon you can or want to talk about?
TZ: I'm pretty consumed with The Molting at the moment, but have plans to release an illustrated porno coffee table book on the horizon. Also: Repo! 's music producer, Joseph Bishara, and I are tossing around ideas for a twisted, cabaret-type concept album and touring act. The best way to stay abreast of what I'm up to is to follow my blog.
MC: What makes you happiest?
TZ: Irish whiskey, women with big butts, and completing new issues of The Molting.