RevolutionSF Contest : Guardians of Ga`Hoole Book Contest Winners
© RevolutionSF
September 08, 2010

Kathryn Lasky's Owls of Ga'Hoole is an epic fantasy book series. These fortunate few won a new edition of the first book, The Capture, from RevolutionSF!
When Soren, a young owlet, mysteriously falls from his nest, he's taken to the sinister St. Aegolius Academy for Orphaned Owls. He must use his wits and bravery to escape his captors. If Soren can learn to fly, he might be able to take refuge with a group of brave owls he thought were only a legend: the Guardians of Ga'Hoole!
The Contest
List your favorite owl from books, movies, cartoons, TV, or anywhere that an owl has flown in fantasy and sci-fi.
The Winners
The greatest owl of all time, Bubo, from Clash of the Titans (1981) in all of its stop motion character glory. Bubo leads Perseus to victory. He saves the day for Perseus when he single wingedly saves Pegasus and destroys the camp of Pegasus's flying horse-nappers.
What other owl could possibly do all that? Harry Potter's Hedwig? No, it can barely land without crashing. Nite Owl? Maybe the first, but the second was whiney and gave up too soon (thankfully Rorschach was around to keep the thugs in line). Owlman? Nope, he's just a Batman knock-off who is sometimes from alternate universes. Bubo is the underdog (or rather, the under-owl) of legend that comes from humble beginnings to save the day for the hero. -- Jason Letanosky
The Runners-Up:
"The creepy Great Owl from The Secret of NIMH. Best owl ever. -- Brendan Riley
My favorite owl is the Tootsie Pop owl, just because he's the one that I reference the most (read: too often). -- D Miller
They Won This
The new paperback edition of Guardians of Ga'Hoole : The Capture
$25 Fandango Bucks, for the movie ticket site Fandango.com.
Two second place winners get the book.
Read This
Check out the book series'
official site
for all the Ga'Hoole info you can fit into your beak.
Watch This
Here's
the trailer
for the movie
Legends of the Guardians.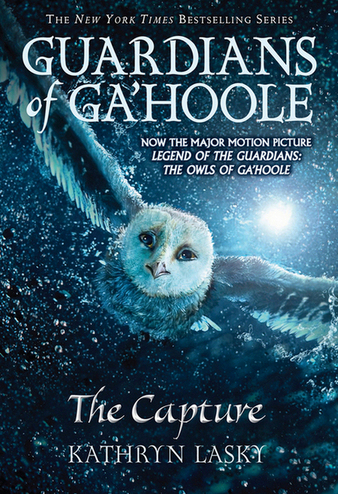 O-w-l spells owl.