"Wait till we get back to the Batcave." -- Batman
In 1979, two TV specials had dozens of DC superheroes and villains in live action: On Legends of the Superheroes, Adam West, Burt Ward, and Frank Gorshin did their roles from the 1966 Batman show, along with 1970s TV sitcom comedians in full, accurate costume.
I exploded.
Now it's on DVD. You can buy it from the Warner Archive site right here.
It's never been available anywhere except bootleg tape tables at conventions. I found a VHS copy the first time I went to a sci-fi convention.
I've relayed the knowledge of this thing every chance I got, for years. Like the Native Americans, I passed it down through oral tradition, since it never came out anywhere else.
I wrote this about it.
Green Lantern and Sinestro will be in a big-blowout theater movie, but they were in live action for the first time here. Old-timey TV comedian Charlie Callas played Sinestro. Superhero trivia is good for you.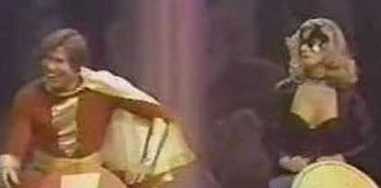 At Dragoncon in September 2010, I showed it at a a movie night. One month later, the Warner Archive folks announced it was coming to DVD. Here's that story
Apparently, this means I am a mover and a shaker. My tastes predict the next hottest thing, even if it takes 31 years. You're welcome.
Legends of the Superheroes is goofily, campily great. I love it. The knowledge of a Playboy Playmate in a Black Canary costume has rested with me, until now.