"We're putting the band back together." – Joe (Morgan Freeman)
RED is everything recent movies such as The Losers and The Expendables tried to be but failed. A mix of buddy movie, band reunion, May-December romance, political thriller and plain flat out action movie, it works on all those levels except one.
The one area it falls down is with the political thriller plotline which is meant to be the driving force behind the heroes' actions. But it doesn't really matter why they are doing what they are. It's just fun to watch them do it.
The joy of this movie, very loosely based on the 2003/4 three-issue Wildstorm Comics mini-series by Warren Ellis and Cully Hamner, comes from the sheer fun that the actors are having. They are clearly having a ball with both their characters and the absurdities of the plot.
What a stellar cast. As well as the Fab Four leads of Bruce Willis, Morgan Freeman, John Malkovich and Helen Mirren, you get Mary-Louise Parker as the romantic interest, Karl Urban as the government agent chasing them, Brian Cox as the wily Russian agent, Richard Dreyfuss as the bad guy (a status he happily applies to himself in his first scene), and a fun cameo from Ernest Borgnine.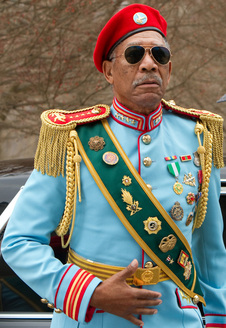 Morgan Freeman brings the class.
The movie is told from the perspective of Bruce Willis's character, and unusually for a modern Hollywood movie, rarely deviates from this single point-of-view approach. He plays Frank Moses, a retired government analyst who only survives his dreary suburban existence by tearing up his retirement checks so he can call and chat with a pretty girl at the pensions office when he asks for a replacement.
The movie opens with Willis's character receiving a visit from an assassination team. When he goes on the run, taking the reluctant clerk with him, we find out he was a top CIA operative classified as RED (Retired, Extremely Dangerous). While figuring out why he has been targeted, Willis recruits his former colleagues, and a one-time enemy, while uncovering a conspiracy.
The conspiracy angle doesn't really work, and the various action scenes with the aged heroes walk a fine line between implausibility and absurdity if you think about them too hard. But the interactions between the characters, individually and as a team, transform what could have been embarrassing farce into entertaining pastiche.
The tone of this movie is best summed up in a single image.
When you see a well respected Dame of the British Empire firing a tripod mounted large caliber Browning machine-gun, the sort normally found mounted on a tank turret, while wearing a flowing white evening dress and army boots, you know you are in for a good time.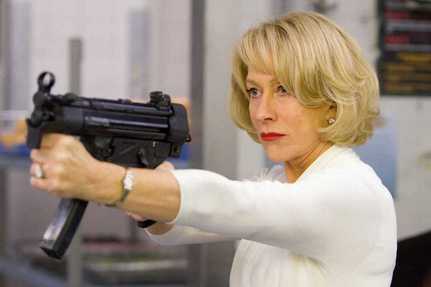 Oh yeah.