Trailer Probe reviews nerd-related movie trailers. Geek explosion content is the good parts, dork disengagement level is the bad parts. Geek parts per billion is the total quality rating, with one billion being the super-nerdiest.
Geek explosion content:
Neil Patrick Harris makes everything better. I'm not sure why he is in the movie, but his parts of the trailer are awesome.
It looks all moody and dramatic, like your standard teen dramas. But unlike them, the characters seem likable! That's not supposed to happen.
No romance flick can escape The Running. One of the couple must run. I don't know if he's running to stop her from getting on a plane, or from marrying a handsome guy. But he's running anyway. and running hard.
Dork disengagement level: This is one of those trailers that tells the entire story in the trailer. It's a modernized Beauty and the Beast, so we know the story. But that's not what I mean. I mean the trailer shows this version of the story. The whole thing, starting with the guy being handsome, all the way through to her deciding he's not a monster.
The whole point of the trailer is that he's a handsome devil with big hair and a blazer, who gets turned ugly. But this movie's version of ugly is pretty cute.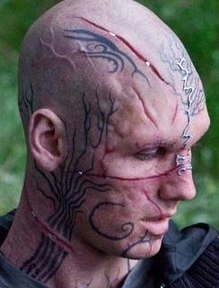 OMG, you guys!
He's bald, which is a cool look. He's got an arm tattoo, which is totally hip. His face doesn't look hideous. It looks like his little brother drew on him.
This is Beauty and the Beast, but there is no Ron Perlman. There is not even one talking teapot. Not even one.
Geek parts per billion: 300,000.