Trailer Probe reviews nerd-related movie trailers. Geek explosion content is the good parts, dork disengagement level is the bad parts. Geek parts per billion is the total quality rating, one billion being the super-nerdiest.
Dork disengagement level:
Orlando Bloom is not in this movie. How will this movie franchise survive without its lamest part? We must muddle through somehow.
I don't see the undead monkey, either. Instant point deduction: 500,000.
Water! Land! Skeletons! More water! An island! It's almost 30 entire seconds before Jack Sparrow appears. I am outraged.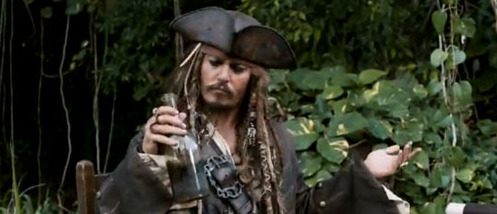 Starring Jack Sparrow as himself.
Geek explosion content: So this movie will be all Jack, and fewer boring humans.
Ian McShane is Blackbeard! I am getting in line right now.
So, the mermaids are nude, but they cover their modest parts, since the movie is not rated R. I accept that necessity with sadness and woe.
Jack Sparrow says the word "zombies," and somewhere a nerd gets his wings.
Geek parts per billion: 750,000 parts per billion.