Verily, a crisis brews on Midgard. It is mirth and melancholy mixed. We are tickled pink that there is a Thor movie. But the action figures task us mightily. You can buy them right here, but be warned.
Observe the diminutive Destroyer. He's the one on the bottom right. For now, disregard the toy versions of Hogun, Fandral, and Thor holding a giant fork.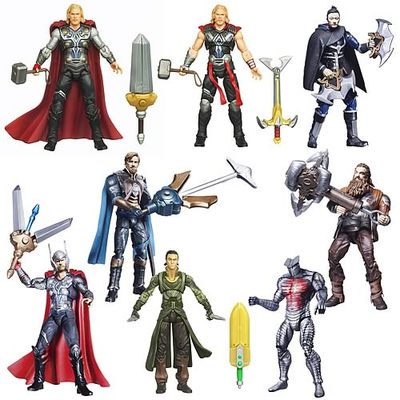 In the Thor movie trailer, expounded upon here, he clearly is larger than the Odinson. But in toy form, he is the same size. I blame the mortals!
Now note the puny Frost "Giant." He's the blue one on the bottom right. Perhaps he is a Na'Vi from Avatar put in the wrong package, clearly a deceit by the trickster god Loki.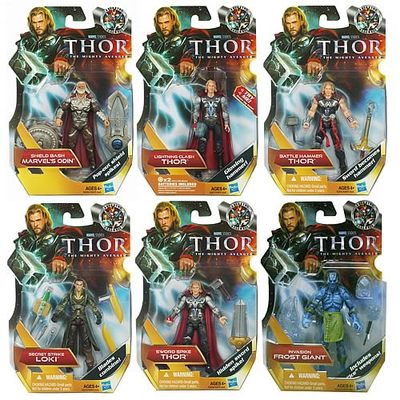 I console myself that I will finally have an Anthony Hopkins action figure in the form of "Shield Bash Marve's Odin." Taking into account his Asgard finery, I imagine a scenario in which Hannibal Lecter attends a sexy party. He is a refined gentleman.
But where is my sweet, sweet Natalie Portman action figure? The foul miscreants must expect us to throw an old Padme Amidala figure into our Thor scenarios.
That is madness.