"I'm going to teach you English if I have to sit on your chest for two months." -- Draper to Friday
Robinson Crusoe on Mars could be considered a sci-fi classic because of when it came out (1964), who made it (Byron Haskin, who did War of the Worlds), and because it has the brilliant, Technicolor-style look of that era.
I like it because it has a chittering monkey for a co-star.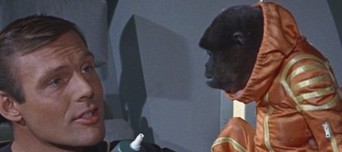 Monkey!
There are other reasons to like it. Adam West is cool and collected for the few minutes he's in the movie. Then Paul Mantee takes over and talks to himself for almost 90 minutes.
You will want to talk back to this movie, Mystery Science Theater style. But everything of that era is like this. The script and plot is textbook 1950s-era sci-fi.
The lack of sci in the sci-fi of that time is so awesome.
Draper finds food, water, and air on Mars easily. He gripes about the air being thin. Then he takes oxygen pills and he's fine.
Draper watches a video on an 8-track tape-size cart, the exact kind radio stations used to put commercials and songs on.
The movie is all about one man surviving in a very hospitable environment. Then it gets crazy.
A loinclothed human appears, then Draper saves him from flying saucers. Draper's immediate reaction to making the first contact with alien life: Boss him around.
Then he puts him to work, and teaches him English, but doesn't put any more clothes on him. Then they set out for the frozen parts of Mars, even though they had a safe, warm camp.
On the DVD is something excellent. The guy who plays Friday, Victor Ludin, sings a country-style ballad called, naturally, "Robinson Crusoe on Mars." The song is here, and it is amazing. Honestly, I'd buy the DVD just for that.
It helps to see the movie before you listen. But I don't require it. The song starts out great, then it just keeps on giving.
While you watch, check out the monkey on screen. He's clearly jealous that Friday stole his screen time.