Trailer Probe helps you decide what nerd-related TV you need to set the DVR for right now. Geek explosion content is good parts, dork disengagement level is bad parts, geek parts per million is total nerdy enjoyment.
Dork disengagement level:
The trailer shows in bold letters that its makers worked on
Buffy
and
Angel.
That's no way to appeal to lamestream America. They should just say, "PLEASE WATCH US, NERDS."
This clip is four minutes. Be prepared. Longer than your usual trailer, so you might want to take a nap first.
The trailer looks like the entire first episode smooshed into 4 minutes. So, if you don't want to know anything, avoid this trailer! Don't click! Too late!
And by "anything," I mean, the entire exposition behind the show, and what happens in the first case on the first episode.
Geek explosion content: It's a crime drama, but the villains are fairy tale villains. Also, "The bobcat was not wearing boots."
This is no fairy tale! The stories are real! This is what the exposition lady tells us.
William Mapother is evil in everything, and now he's evil here. Good times.
I hope they get all the good fairy tales out of the way first. I don't want this thing to get canceled before they gut-shoot the troll under the bridge.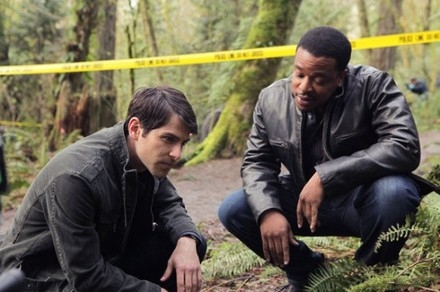 Star of Show meets Normal Guy Who Just Can't Believe What's Happening.
Geek parts per billion: 800,000.