The U.K.'s Misfits is a bit of an odd duck. It is a superhero show about the least heroic people imaginable. It is about super powers that are almost completely unwanted by those that have them. It is about young people in a bad area that don't want to save it, they just want to leave and go some place better.
The first episode begins with Nathan, Kelly, Simon, Alisha and Curtis (and one other nameless youth) all thrown together at a community center to do community service for a variety of crimes. There is banter where we discover the nature of our hooligans; incredibly obnoxious Nathan, vain but pretty Alisha, girl from the wrong side of the tracks Kelly, athlete and possible Olympic hopeful Curtis and intensely withdrawn Simon. And an obvious red shirt.
The stern probation officer puts them on a cleanup detail and the fun begins. An unusual storm rolls in and with a strange burst of lightning and pyrotechnics our characters find themselves possessed of unusual abilities. As they try to figure out what is happening to them, the wayward red shirt is killed and the group realizes the probation officer may be a problem.
As the series progresses, our heroes use their powers to get in and out of trouble. They do some decidedly unheroic things and generally cause havoc on their estate. There are others that were affected by the storm, so you've got a mad merry mix.
Misfits is a fun show that does what it aims to do almost spot-on. Superpowers, don't come off looking hokey or badly done. The casting is perfect, with some standouts such as Robert Sheehan as Nathan and Iwan Rheon as Simon. The plots are suitably twisted, warped, weird and slightly silly.
At this writing, the show is gearing up for Series 3 in the UK, starting in November, and the first two series are on DVD, but only Region 2. Series 1 is watchable on Hulu. (For more Misfits info, here's the show's website).
. I highly recommend this show, for its skewed version of a superhero universe, warts, depravity and all.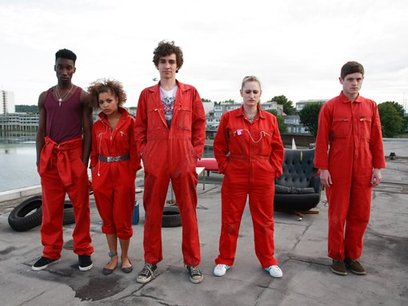 Warped, weird, twisted, and slightly silly.