RevolutionSF vs. Sci-Fi Conventions 2011: Dragon Blank
© Joe Crowe
September 13, 2011

"I don't know the answer. I just want to be Hulked." -- a contestant at RevolutionSF's Stump the Geeks game show.
This year RevolutionSF Roundtable podcast co-host Gary Mitchel and I put on the RevolutionSF Traveling Salvation Show. We are human billboards for the site and the podcast. We appear on panels and speak cleverly on nerdy topics. We met tons of nice folks, and lured them to the site, much like unsuspecting passersby.
We made new friends, re-met a bunch of old friends, and made new enemies. I say that, because a room full of people were forced to witness me dancing in public.
I arrived only 57 minutes late for my first panel Friday, about the canceled new V series. I got there just in time to disrupt every discussion, and turn all the focus on myself. SUCCESS!
I was set to host two panels with Bruce Boxleitner, also known as Tron, Captain Sheridan, and Scarecrow. He canceled just before the con. He canceled the same day his wife, Little House on the Prairie's Laura Ingalls, Melissa Gilbert, announced they were splitting up. Sad news. I can only speculate that Nelly Oleson must have been right about Half-Pint all along.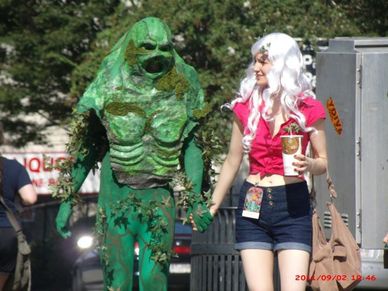 The one on the left is Swamp Thing.
"Manimal has no friends."
Every year Gary and I do Manimal and Friends, a panel about quickly canceled sci-fi shows. This year we added a contest where we did Name That Tune with canceled sci-fi shows. Gary got every one I challenged him on. And I got zero. As in, none. Track director Ron took away my badge. One clue was five words, among which were primate, airplane, and nightclub.
Do you know it yet? Ron and Gary did, while I sat drenched in flop sweat.
Gary Mitchel owns me, by the way. I have seen no one with such a storehouse of trivia who can process it into cleverness, and also function in society. While I stewed in defeat, he laughed, long and loud. It was a "YAA-HA-HA!" kind of laugh, that haunts me even now.
Tales of the Gold Monkey. I stood ashamed at the precipice of the six-inch high stage, but someone yelled "Don't jump!"
Stump The Geeks
I don't care what anyone says about the roving bands of whoopie-making booze-guzzlers. Our game show is the most fun anyone has every year at DragonCon. This year I finished writing the questions an incredible two whole days before the con.
Gary and our pal James Palmer stormed the crowd with Hulk cologne, to spray on contestants who got answers wrong. One fan got one wrong on purpose. She said she just wanted to be Hulked. I am so proud of her.
This year someone finally had a good excuse for us to not hose them down with Hulk. Allergies.
I did not spray them, because I didn't want anyone to explode. That is what happens when you have an allergic reaction, or so I'm told.
A fan asked me to come up with another punishment option that doesn't involve gamma-irradiated spray. Oh, my. A delicious challenge. And I have a whole year to work on it!
The Shushing
I barely survived two encounters. I made an off the cuff remark to Gary about
Farscape
fans. I may have used the word "creepy." Gary tweeted about that faster than I had time to say I didn't really mean it. Then a lady in a
Farscape
shirt shushed me while I watched a panel. I guess word got around.
I saw an emo kid, dressed like an emo kid, wearing a sign that said "Hug an emo kid." I don't know if he was there for the con, or just feeling especially morose that day. I said to Gary after he was out of earshot, "He should have another sign on the other side that says "Punch an emo kid."
Then the emo kid appeared right up on me, and said, "Why would you want to punch me?" Then he shambled away with his head down. I think he answered his own question.
Match Game in the 25th Century
This was a highlight of the con for me, and I was not even there. I wrote some questions for
Sci-Fi Classics
track director Ron, who fashioned a set that evoked 1974. Gary was one of the panelists to answer sci-fi versions of the the infamous fill in the blank questions. For example: The doctor told the Human Torch, "When you catch on fire, does it hurt your BLANK?"
I urged Gary to throw confetti after every question like Rip Taylor, but he chose not to risk the vengeance of the hotel clean-up crew.
The best part was our surprise celebrity panelist, who we teased throughout the con. I let it slip that it was a "he," on Friday morning, narrowing the field to half the Earth's population just that quick. Saturday night at the game, we revealed Gil Gerard, Buck Rogers himself, from the 25th Century! He hosted the game, and my goodness. Hijinks ensued. We have video.
I did not participate because I was next door. Dancing.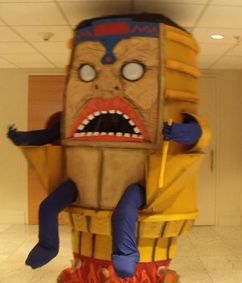 Behold MODOK!
The Dance of Canceled Shows
I lost a bet years ago on the American
Sci-Fi TV Track
, and it haunts me to this day. I predicted the awful sitcom
Cavemen
would be a smash despite its awfulness, and be on the air for 10 years like
Family Matters
, the show with Urkel. Here's
my review.
I said if that show was canceled, I would dance in public the next year at the con.
Now, much like Ben Grimm, it has turned into a thing.
They look for my prediction for which nerd-related TV show will be canceled first. My record now stands at 0 and 6. Last year I predicted The Event would go first, but The Cape beat it. So this year, track director Kelley provided me with Lady Gaga's "Bad Romance." And I danced, like a wave on the ocean.
Someone may have captured the thing on video. If so, I will see that all of you get a chance to be dazzled by my streetwise move-busting.
Sharktopus!
Saturday night, I co-hosted a screening of
Sharktopus.
with
Saturday B-Movie Reel
podcast host Kevin Bachelder. We had an absolute ball with live microphones, riffing on the movie as it unfurled before us. Guys in the rows behind me were saying funny things and I tried to avoid stealing their lines. Watching the movie with a crowd is much more fun than watching it alone in my basement.
Villains Explain Themselves
The star was a guy in full Professor Snape costume, in character the whole time. Friend of the site Stephanie Souders was the White Witch from Narnia. I was not on the panel, but Stephanie asked me to sit in. Naturally, my raging ego agreed. So I became Elric, last prince of Melnibone. About three people in the room had heard of Elric. I was distraught.
All-Time Cartoon Classics
We talked about cartoons with Jessa from from
Good to Be A Geek
. One kid asked "What about
Robotech
?"
He's nine! His proud father was there, beaming in the light of his son's awesomeness. His work is done.
Big Bang Theory: Are we the joke?
Gary and I were on a panel about the show, asking if the show laughs at or with us. The vast majority opinion was "with," but there were some dissenting voices in the crowd. One non-fan compared the show to
Transformers 2.
I gave her a T-shirt.
Dragon*Con Masquerade
The annual costume contest has morphed into
Solid Nerd Dance Party.
Many costume wearers spend months making the costumes, but the presentation is important if you want to win. So 97 percent of them surprise everyone and bust out dance moves. At least, when I did it, everyone knew it was coming. But after the first 20 times, the surprise dancing isn't much of a surprise. But man, that masquerade has everything.
Gary Meets Elvira
Gary paid money to get a picture with Elvira in full costume. Elvira, not Gary. He ponied up the cash because you can't just get a picture with Elvira in 2011. Elvira isn't going to walk around in public in the costume. People who look like her will do that. But they might be cleverly disguised men, as I discovered years ago to my chagrin.
For the macabre occasion, Gary wore a black T-shirt with a spooky picture on it. He marinated all day long in the heat that it absorbed. That is called sweat equity. These are the sacrifices we make for nerdiness.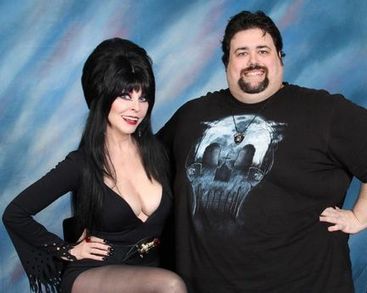 The one on the right is Elvira.
Linkage:
RevSF's Joe interviewed Christopher Lloyd right here.
Follow RevolutionSF on the Facebook and the Twitter
Saturday B-Movie Reel:
American Sci-Fi TV Track:
Sci-Fi Classics:
Good to Be A Geek