This TV season, there are two shows based on fairy tales, Once Upon A Time on ABC, and Grimm on NBC. Based on their success, TV networks are working on more fairy tales. Except that at this writing neither show has aired. TV people have once again done a great job counting their chickens before they cry wolf.
Now ABC is working on a remake of Beauty and the Beast. It says so right here.
ABC is owned by Disney, makers of the cartoon Beauty and the Beast, with the singing teapot and the chipped cup that was once a human child.
It's written by the co-creator of Jericho, Jonathan Steinberg. It will be an "epic fantasy reimagining."
That could mean it's like a movie that came out earlier in 2011, Beastly. I wrote this trailer review about that.
But wait! The CW is working on a different Beauty and the Beast remake. Here's the news about that.
It's a reboot of the second most famous BatB: the 1987-1990 TV series with Linda Hamilton and Ron Perlman. He was a lion man who lived underneath the city. She was a lawyer. They went on to play badasses in everything.
Check out this sweet TV theme music.
Since the remake is on the CW, it'll have teenagers drinking illegally while today's hottest pop hits play on the soundtrack.
It will also be a procedural. So the beauty is a cop and the beast is a grizzled loner with a heart of gold. I'm just assuming.
It'd be neat if they flipped it. The beauty is a super hot dude. The beast is a girl who lives in a sewer. They fight crime!
I will be outraged, nay, furious, if neither remake involves the great Peabo Bryson.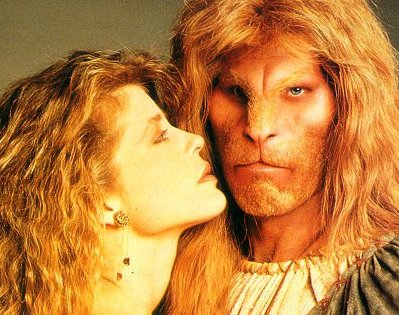 Whose hair is coolest? YOU MUST CHOOSE.