When I was a kid and watched Gremlins, it was awesome because, well, because it was awesome. You had this cute little Mogwai named Gizmo who got wet, reproduced multiple, meaner versions of himself, and they ate after midnight and turned into Gremlins, little ugly green creatures that caused all sorts of havoc.
Now that I'm a grown ass man, Gremlins is awesome because, well, because you have this cute little Mogwai named Gizmo who gets wet, reproduces multiple, meaner versions of himself, and they eat after midnight and turn into Gremlins, little ugly green creatures that cause all sorts of havoc.
Also, it's a fantastic genre mash-up of Christmas movies, horror movies, and kids' movies.
Also, because it has Phoebe Cates.
It might be a stretch to call Gremlins a masterpiece, but I'm doing it, anyway: Gremlins is a pure American masterpiece. It's hilarious and wild and there's nothing else like it. Gremlins is the kind of movie that once seen, can't be unseen, and the effortless way director Joe Dante blends comedy and horror is simply top-notch directing.
At the heart of what makes Gremlins work is a wonderful monologue by Phoebe Cates. As the small town is being overrun by Gremlins, Billy (Zach Galligan) has just rescued Kate (Cates) from the bar where she works nights.
The Gremlins had forced her to serve them food and drinks but Billy is able to get her out of there. When Billy's car doesn't start, the two of them run across town to the bank to gain a moment of peace in the middle of the craziness. Kate chooses this moment to explain to Billy why she hates Christmas.
When she was nine years old, her father went missing on Christmas. The cops looked for days but they couldn't find him and no one knew where he could have gone. A few days later, it's cold in the house so Kate decides to light a fire. "That's when I noticed the smell," she says, completely engrossed in the memory. Turns out her dad dressed up as Santa and tried to climb down the chimney to surprise her for Christmas, but he fell and broke his neck on the way down.
"And that's how I found out there was no Santa Claus," she says weakly, about to cry, but I don't know if I should laugh hysterically or feel the utmost empathy. Cates delivers the monologue beautifully; you can see how haunted Kate is, and it's a tragic story but it's also a completely ridiculous story and I'm laughing at the same time I feel horrible. (Check it out right here, if you dare.)
While that scene is unique in its sharp contrast in the film, the interplay between serious scenes and comedic scenes keeps the film moving around at a quick pace. Gremlins never stops moving; in the bonus features, Dante mentions the first rough cut of the film was over 2 1/2 hours and they just pared and pared from there. What's left is a tight 1 hour and 46 minutes of cinematic goodness.
Billy father's (Hoyt Axton) is in Chinatown as the film opens, looking for a special Christmas gift for his son. He finds it in an underground shop, a Mogwai that the old proprietor refuses to sell. The old dude's grandson doesn't mind exchanging the animal for cash, so he sells it, letting Billy's dad know the three rules:
1. Keep it out of the sunlight.
2. Never get it wet, and
3. Never feed it after midnight.
Lucky for us, they break the rules in order. First, Billy's mom takes a picture of Gizmo and the little guy freaks on everyone. Then he gets wet and he screams and writhes in pain. His back starts bubbling and he pops out five new Mogwai. Unlike Gizmo, this new batch (pun intended for fans of the sequel) is a bunch of jerks, and they trick Billy into letting them eat past midnight, which turns them into gremlins.
Thanks to Dante's impeccable pacing, there's still plenty of time to watch the gremlins terrorize the town. There's a couple great action sequences with the gremlins around town: one in Billy's house where they fight his mom, and one in the department store with Spike at the end of the film.
But the real winner is the sequence where the entire gremlin community gathers in the movie theater to watch Snow White and the Seven Dwarfs. My favorite bit in the whole movie sees the gremlins mumbling/ singing along with the signature "Hi-ho, hi-ho, it's off to work we go" song. Then they cut back to Billy, Kate, and Gizmo, and Giz is singing along, too, a subtle (but funny) reminder that the only difference between the adorable Gizmo and the horrific Stripe and the gremlins is a post-midnight snack.
I love the ending, too, when Billy, Kate, and Gizmo all play a role in Stripe's demise.
The old shopkeeper arrives at the end of the movie to take Gizmo back because "you're not ready for it." Billy's a bit sad and it reminds you that he's an adult that gets treated like a kid. When you hear that his dad is looking for a gift for his kid for Christmas, you're not expecting that kid to work at the bank and scam on Phoebe Cates. The living in the attic and hanging out with a very young Corey Feldman, sure, but not the first two.
I'd forgotten how much I liked this film, but that's a mistake I won't make again; Gremlins is a fantastic movie and I'll be making a spot for it in the Blu-Ray collection.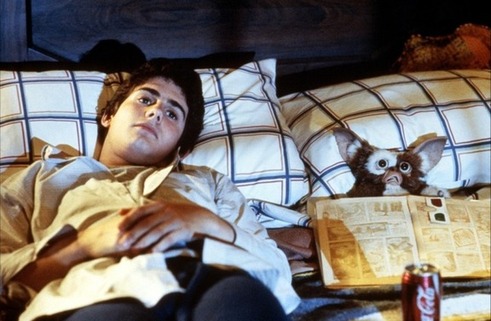 "Bye bye, Woof Woof."