After my own experiences doing self publishing and working with small presses, working without a strong editor can be challenging to produce a high quality book. Most small presses are just a guy or two with seed money who wants to publish comics (sometimes their own) and are willing to front the costs.
Most of these companies do not succeed for long, but it is always a treat to see what new talent they pick up on their short journeys. Mike Luoma is a new comer to the indy comic book stage and is already showing great promise as a new writer for Earthbound Comics.
Luoma is set in his characters, he knows who they are, what they want and how they will get there. While he struggles at conveying this on the page at times, that doesn't stop these three short comics from being fully enjoyable.
In the first issue Alibi Jones is an inter-planetary diplomat working on peace treaties, but while attending a get together on behalf of his politician aunt he discoverers something more sinister happening with a new colony. In the second arc the audience is given a very short childhood event for Alibi, where the audience is given a small taste of his family and background.
The third short in the volume sets the stage for a much larger arc, that will most likely be a reoccurring conflict through out the comic, involving time travel. Alibi is confronted with a box that somehow can transport and individual to any time and after using it as assaulted by the apparent owner of the cube. While not much happens to develop the story more in this issue, it leaves the audience wanting to find out what happens next.
The volume is illustrated by an artist going simply by Meisha, with the short second issue being done by artist Rhys Ap Gwyn. Both of these styles are extremely different and do not seem to fit well together in such a short volume. Both artists show talent and with more work and study could be more than competent.
Meisha seemed to struggle the most with line weight, which can easily be fixed by hiring an aspiring inker for the comics, but excels in character anatomy. While Gwyn had some spacing issues and discerning the depth of each panel. Earthbound elected to have a completely different artist do the "alternate" covers (Frederico Gullien) which did not fit with the other two styles either, but can be forgiven since a cover artist many times has no need to fit with the other artistic styles.
This book is still very raw, and by no means what I would consider a full finished product. But I do not consider that a negative for the enjoyment of the story, from a team that is just starting out. People with this much potential early on will only move forward and up.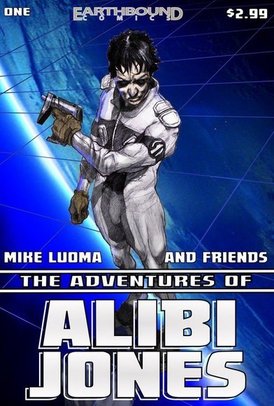 Alibi Jones can be found and/or purchased right here.