Its success in Europe has also garnered the attention of Hollywood; already one hears rumors of a remake starring George Clooney and directed by David Fincher. Let's hope these don't pan out, because, minor flaws aside, the original is worth seeing.
With those words, I closed
my review of Niels Arden Oplev's 2010 adaptation
of Stieg Larsson's phenomenal bestseller
The Girl With the Dragon Tattoo
. I meant them at the time; after all, why on Earth would Hollywood want to remake a solid screen iteration of the soon-to-be-classic thriller, apart from its incessant need to put its own stamp of approval on the material, to say nothing of simple greed?
If I were a studio executive with an eye on the novel's sales figures (up to 65 million worldwide, I understand), I'd mentally calculate how big a slice of that pie I could get, too.
Did I expect movie to be made? Of course. Since when has any Hollywood studio asked me what I'd like to see? But I like thinking they heard some of my grumbling, because in making this new The Girl With The Gragon Tattoo they smartly passed on making George Clooney its leading man and, even smarter, sat David Fincher in the director's chair.
For those who love the novel and thought highly of Oplev's picture, Fincher's effort loses none of the suspense and makes a few improvements while, unfortunately, retaining many of both the novel's and original film's faults, and adding one or two of its own.
It retains most of the basic compelling storyline. Mikael Blomkvist (now the always likeable Daniel Craig) has lost a libel case (thankfully, screenwriter Steve Zaillian drops the prison sentence, which hampers both the novel and the original movie) against Swedish industrialist Hans-Erik Wennerström (Ulf Friberg), tarnishing his journalistic reputation and putting his magazine Millennium in jeopardy, when Henrik Vanger (Christopher Plummer, as always outstanding) asks him to investigate the disappearance of his great-niece Harriet, who disappeared from the Vanger family's island forty years ago.
Vanger believes she was murdered by a member of his family, members include those who served with the Nazis during the 1940s. As his investigation moves forward he enlists the assistance of Lisbeth Salander (Rooney Mara, who more than lives up to the impossible challenge of building of Noomi Rapace's performance), a tattooed, ruthless hacker hired by Vanger to investigate Blomkvist thoroughly.
(How thoroughly? "He performs cunnilingus," she tells Vanger's lawyer in a deadpan voice. "Not often enough in my opinion.") Their investigation links Harriet's disappearance to a series of murders and to even darker aspects of the Vanger family.
Like Nikolaj Arcel and Rasmus Heisterberg, the screenwriters of the original, Zaillian sees the novel's philosophical concerns as necessary, but streamlines them, concentrating on the more lurid aspects, chiefly the brutal way men use women, whether with the indifference Blomkvist can show his co-editor and sometimes lover Erika Berger (Robin Wright) or the unpleasant abuse Salander experiences under her state-sponsored ward Bjurman (Yorick van Wageningen, and the way women can exact their revenge, as when Salander finally confronts Bjurman.
This sequence chills the viewer on its own. Oplev's handling of the material was so matter of fact that it distressed the viewer all the more, but in the hands of director Fincher it becomes particularly unnerving, in part because it skirts the borders of the tawdry without ever going over, and in part because when the viewer confronts the scene he feels somehow complicit, undermining his own enjoyment of sadism.
This stylistic break, surprisingly, makes the movie feel less like an exercise in trash cinema (for example, Tony Scott's Man on Fire) than a genuine counterpart to Jonathan Demme's Silence of the Lambs. Where Oplev version demonstrates restraint, every frame of Fincher's film drips with style, from the darkly psychedelic almost Bondian credits (from Blur Studios, and over Karen O's cover of Led Zeppelin's "Immigrant Song") to the muted tones of the interiors and exteriors. It's a dark movie in more ways than one.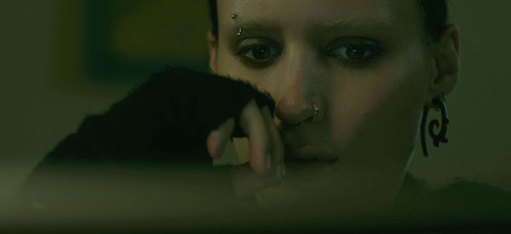 "The Girl With the Painful Looking Eyebrow Piercing" sold far fewer copies.
Zaillian's screenplay also, smartly for the movie, focuses on the two leads. Daniel Craig, as always, is Daniel Craig, bringing the same likeability he always brings, but Mara brings a vulnerability to Salander hinted at by Rapace but given far more depth. Indeed, the movie improves on the original by highlighting the chemistry between Craig and Mara, allowing them to showcase genuine affection. When they do become lovers, it seems a natural progression, rather than a forced plot contrivance. And they play well off each other.
At one point, Blomkvist wakes to find Salander using his computer. "But that's encrypted," he protests. She just looks at him. "Please," she responds.
Unfortunately, this shifts the focus of what in the novels is Salander's team of technicians and friends, a nod to Kenneth Roberson's Doc Savage, but was probably wise given the movie's two-and-a-half-plus hour running time. The movie's length is another factor; though Fincher mostly keeps the brisk pace, it falters toward the end with an overlong denouement. And Zaillian, for all his skills as a storyteller, can't work around what is also the novel's biggest flaw: the mystery's solution is pretty obvious to anybody.
I said at the end of my review of the first movie that, flaws aside, it was worth seeing. I could say the same of this iteration. Fincher's The Girl With the Dragon Tattoo adds a sheen of gloss to its seamy subject matter and offers two more engaging leads even if it adds nothing new to the original. I'm still unsure whether it needed to be done, but if it had to be, I'm glad they did it this way.