Nerdus Interruptus. That's what we got in the final episode of Smallville. Ten seasons built to one moment, and then did not go through with it.
The concept of Smallville could not work with any other character: It's about a well-known hero that it never shows. The series' creators called their shot, explaining after its first episode what would happen in its last. Clark would wear the suit and become Superman.
But in the last episode, after 10 years of buildup, he didn't.
I had one reasonable expectation. The desire to see Tom Welling in a Superman costume should not have been such a big deal. But the show made it that way, and then didn't pay off.
The whole series is on DVD, the excruciating years when everything was about Lana, Lana, Lana and the excellent years when the show put in live-action about a jillion characters from the rest of the DC Universe.
Here is the RevolutionSF review of the first episode. And here's a story about 4th season.
We inducted the cast into the Sci-Fi Hall of Lame.
I went into nerd overload during my favorite episode, the awesome one with the Justice Society.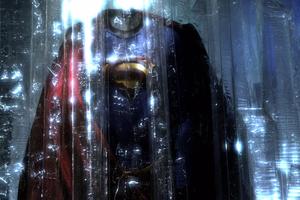 Good parts
The show got past its
Dawson's Creek
beginnings, where everything was about morose teen Clark in love with oblivious Lana. The show really became a superhero action series.
Many of Smallville's best moments addressed bits of 60 years of Superman continuity, even though comic book Superman's continuity changed about 78 times during the show's existence.
I'll miss Smallville most because of the DC Universe. No other live-action superhero show ever used that massive a volume of comic book lore. Nearly every week was a visit to the DC Universe, with characters from New Gods and Justice League comics peppered throughout. I embraced the nerdiness.
The show earns its own spot in Super-history. Its creators did the character of Superman right, many times.
I love stunt casting. Smallville did it with a capital S, including bunches of actors from Superman movies and TV shows. The best one was Christopher Reeve. When he first appeared, the soundtrack played the Superman movie theme. That is one of the all-time best, super-nerdiest things I have ever seen.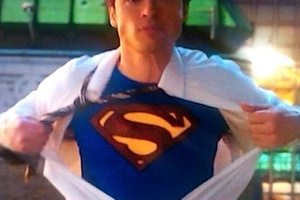 That last episode
None of which excuses that final episode.
Lex Luthor knowing everything about Clark was hastily undone with super-amnesia. Lois didn't forget Clark's identity, though. She just pretended she didn't know it. She's a bad reporter, but she's a terrific actress. And Chloe was a mama, telling the Superman story to her little boy. But if you look closely, which I did, the comic he's reading isn't Superman.
Instead of showing Tom Welling in full Superman costume, Welling ripped open his shirt to reveal the S, but then stood in slacks with a ripped open shirt.
Lois watched costumed Superman save her, but all we saw was Tom Welling from the neck up, with the top of a red cape flapping around his lower neck.
And here's the worst one: Superman saved a crashing plane, from far away. All we saw was a tiny CGI cartoon Superman.
Ten years for that.
The creators of the episode offered their defense in this story. One said, "It felt like it gave just enough without starting to tell a whole different story that is left for all the other media."
"We all wanted it to be the end of Clark Kent's journey because it's a show about Clark Kent."
Saying it's about Clark is not noticing the super-elephant in the room. Clark's growth into Superman is what it's about.
M*A*S*H* did not end with closing the 4077th, but only showing the actors from the neck up.
How I Met Your Mother will probably not end with a cartoon of the mother, from far away.
In other words, showing Tom Welling in the Superman outfit would have been OK with me.