Rabbits are among nature's most beautiful creatures, and they play many important roles. In movies, TV, and such, they are equally necessary, just as in nature, where they tell hunters and ducks which hunting season it is, and dress up like female Tasmanian devils.
6. 30-Second Bunnies
These bunnies re-enact movies in 30 seconds. Good movies, including Evil Dead II and Back to the Future. Watch now.
You deserve it.
5. Enemies of Anya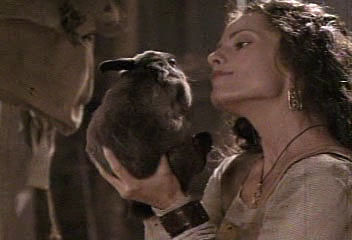 Anya from
Buffy the Vampire Slayer
made it frequently clear her distaste for bunnies. In the episode "Once More With Feeling," Anya claimed that they are not cute like everyone supposes.
4. Thunderbunny
In this 1982 comic book, a teenager wishes he was a superhero. Then he finds a crashed spaceship, where he is granted flight and super-strength, but only by turning into a muscle-bound talking bunny.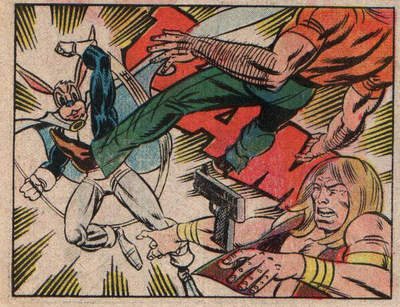 The lesson is, be careful what you wish for, because you just might get turned into a super rabbit-man.
3. Hoppy the Marvel Bunny
The power of Shazam compels you!
Captain Marvel Bunny first appeared in 1940. He returned in the 1980s to help the non-rabbit Captain Marvel in a story by Roy Thomas, a writer who loves bunnies so much he created Captain Carrot and Jaxxon the awesome Star Wars Rabbit.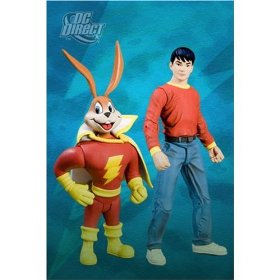 Hoppy is invulnerable and super-strong like like Captain Marvel,
but he's a talking bunny.

What does a talking bunny do with the powers of Shazam? Whatever he wants.
2. Science bunnies from Lost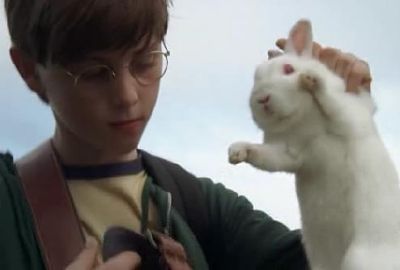 The things had red eyes.
When Ben Linus was Little Ben, he used one to see if a sound-wave fence was on. When he grew up, he made one fake a heart attack.

But the bunnies' greatest contribution to Lost is that in one episode, Sawyer read Watership Down. The rabbit murders in it toughened him up.
1. Bunnicula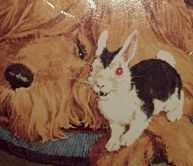 Bunnicula is a rabbit that a dog thinks is a vampire, in a book series by James Howe.
The star of the books is Harold the dog. Hijinks ensue when Harold tries and fails constantly to kill the bunny, and thus becomes convinced it's a vampire.
That's right. It's a kids' book. The bunny does not die. And it shows no sign of really being a vampire.
The book presents two options, but leaves the answer up to us gentle readers: The dog is crazy. Or Bunnicula is a soulless devil-spawn biding its time until it consumes the family's lifeblood.