Trailer Probe calculates the total nerdy enjoyment in nerd related movie trailers. Dork disengagement level is why you might not love it. Geek explosion content is reasons you will go nut-bonkers for it.
Dork disengagement level:
A sign says "Put Looper's Guns Here," and the misplaced comma almost made me go filking crazy. Then I looked at it again, and it's OK. It's guns belonging to a looper, not a looper group. Congratulations,
Looper
, for your successful use of grammar.
Then it takes 30 whole seconds for the first storyline revelation.
Then it takes an excruciating 40 more seconds to get to the big twist. And this is just the trailer! Imagine how long the movie itself will take! Come on.
Geek explosion content: The words "time travel" are the first two words in the trailer. So if time travel is not your bag, you haven't wasted much time.
The movie starts out looking like Goodfellas with time travel: It has time travel, but it also has stylish hitmen.
So, already, I'm in. Sign me up.
But then, Bruce Willis appears and the movie changes completely. And this is just the trailer!
They had to go and add Bruce Willis' character to it. His part puts the movie from "really interesting" to "I've got to see this."
I said I was already in! I can only see it one time at a time.
Geek parts per billion: 900 million parts per billion.
Buy Me
The Looper DVD is on sale now! Check out the trailer
right here
.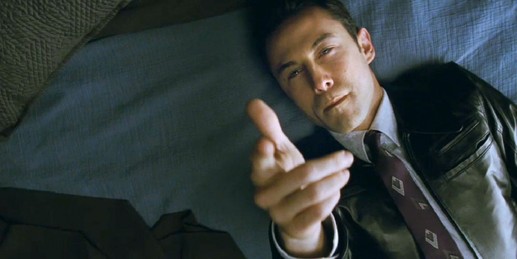 On his way to the Third Rock From the Sun convention.