In Fall 2010, twenty-eight of my friends and I compiled a list for RevSF of 52 comic series that deserved to be collected, the Uncanny Un-Collectibles: Missing Comic Book Trades. With the release of Showcase Presents: The Spectre (see below), I decided to revisit the six part bitchfest and see what else has been collected since then. -- Rick Klaw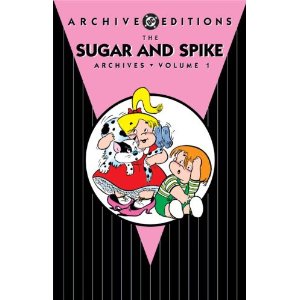 Published September 14, 2011:
Paul O. Miles: "Sugar and Spike are next door neighbor babies, who understand each other's gibberish and get into mischief. The thing about Sugar and Spike or other long running kid's comics such as Little Lulu is there are rarely individual stories that tower over the rest and demand reprinting. Instead, you hope to have as much reprinted as possible so you can experience the cartoonist's art over a wide range of work.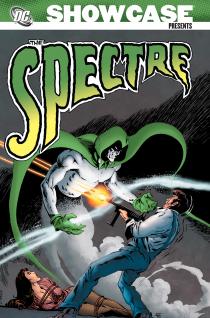 Collects SHOWCASE #60, 61 and 64, THE BRAVE AND THE BOLD #72, 75, 116, 180 and 199, THE SPECTRE #1-10, ADVENTURE COMICS #431-440, DC COMICS PRESENTS #29 and GHOSTS #97-99. / Published April 25, 2012
Scott A. Cupp: "In the mid-1960s DC was riding on the success of the Earth-2 stories in The Flash and Justice League of America, and they decided to revive the Spectre with Murphy Anderson and Neal Adams as the primary artists. The series lasted just thirteen issues (three in Showcase and ten in The Spectre) but they were wonderfully cosmic and supernatural in nature, unlike the original More Fun run.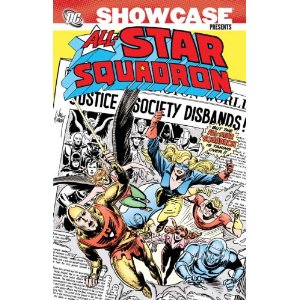 Published April 18, 2012
Joe Crowe: "In All-Star Squadron, Roy Thomas mixed World War II history with superhero continuity, and got himself a stew going. The stories made modern-age superheroes out of silly old Golden Age knock-offs.
It raised a generation of continuity nerds. In the early 1980s, All Star Squadron was a welcome vacation from nearly every other comic, where heroes tried to find themselves or had human problems. The All-Stars had problems, too. But then they beat up super-Nazis."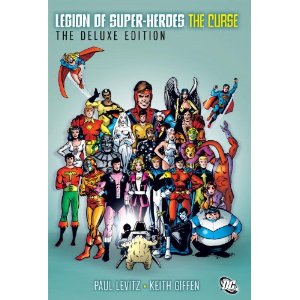 Collects LEGION OF SUPER-HEROES #297-313 and ANNUAL #2-3. / Published October 19, 2011
Paul Benjamin: "Now that Paul Levitz has been reunited with the Legion of Super-Heroes, it's about time some of his greatest work returned to store shelves. There's a noticeable gap in DC's collections: a long run by Paul Levitz and Keith Giffen beginning with the Great Darkness Saga. While that seminal storyline of the Legion vs. Darkseid has been collected, the rest of their run is only available to folks willing to delve into dusty longboxes.
Now that Levitz is back in charge of his favorite characters, it's time to treat fans to the stories that inspire the latest tales. Long live Levitz and Giffen! Long live the Legion!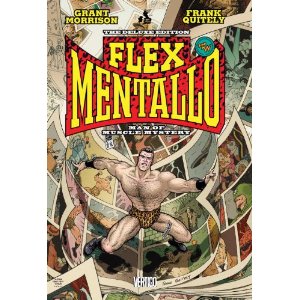 Published April 4, 2012
Brandon Zuern: Flex Mentallo, Grant Morrison's four-issue limited series about a musclebound superhero searching for other champions of justice, might not be for you. It's too psychedelic for a mainstream audience, yet too much in love with truth, justice, and the American Way for the weirdos and freaks. It's drug-fueled science fiction fantasy is more than the straight-laces can handle, but has a strangely sweet optimism that cynics won't get.
It's a love letter to superhero ideals laced with LSD. It's beautiful like an explosion, thanks to the stunning art of Frank Quitely.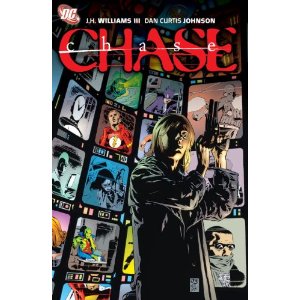 Collects CHASE #1-9 and #1,000,000, BATMAN #550, #1-9, DC UNIVERSE SECRET FILES #1, SECRET FILES GUIDE TO THE DC UNIVERSE 2000 #31, SUPERMAN: OUR WORLDS AT WAR SECRET FILES #1, JSA SECRET FILES #2, THE FLASH SECRET FILES #3, THE JOKER: LAST LAUGH SECRET FILES #1, BATGIRL SECRET FILES #1 and HAWKMAN SECRET FILES #1. / Published December 28, 2011
Wayne Beamer: What 99 percent of us know about Chase is nothing, unfortunately. It was a blip of a 10-issue series last published in 1999 about Cameron Chase, a female governmental operative with the Department of Extranormal Operations who had a deep-seated hatred of most superbeings, good and bad. No great loss, right? Hardly.
Chase marked the beginning of the artistic partnership of J. H. Williams III and Mick Gray, whose collaboration with Alan Moore on Promethea, a modern-day mashup of Wonder Woman and Fawcett's Captain Marvel, was among a handful of the best and most entertaining and beautiful superhero comics published anywhere by anybody over the past decade."
Chase is now a regular character in Batwoman.
Scheduled for the first half of 2012 but not yet released collections include Showcase Presents volumes featuring Rip Hunter and Sea Devils .
It's not surprising that these are all DC books. Of the 52 titles mentioned, 26 of them were from DC (Marvel was a distant second with 5).