You need quick reviews of books of nerdy interest. Book Probe has that for you.
Review by Matt Cowger, RevolutionSF apocalypse expert
Craig DiLouie's The Killing Floor is relentless. It's a crusher of a book, giving the reader only rare pauses to catch their breath.
The quick pace will have fans of zombie/ monster novels clipping through to its blood- fraught ending.
The Killing Floor picks up almost immediately where DiLouie's Infection ends. The characters are scattered all over the map and changed, some for the better, most for the worse.
These characters are in an end of the world scramble to decide the fate of the human race, which lies in the hands of the people in this apocalyptic world as much as the undead and monsters that control most of it.
If you liked The Infection this is a must read. I recommend going back to it, then reading it back to back with this one. Craig DiLouie is an author to keep your eye on for decent characterization within monster shoot-em-ups. H is a talented writer with an obvious love for action -horror fiction.
RevSF Rating: 7/10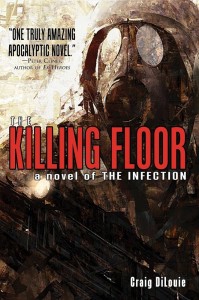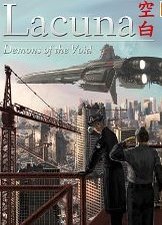 The Lacuna series starts at the moment after an alien attack, in a future with high-tech stuff that the aliens don't like (That's why they blew things up real good.)
The dialogue amid the action is top-notch stuff. One character references Star Trek, and corrects the infamously misquoted "Beam me up, Scotty." Finally, that's on the record in fiction.
Obviously, writer David Adams had a blast creating these. Both books use good old fashioned sci-fi to excellent effect. And they're stuffed with alien fightin' action. You need that in your regular sci-fi diet.
RevSF Rating: 8/10