The sci-fi comedy series Red Dwarf is really coming back. The series returns in October 2012 to British TV's Dave channel, which has the best name for any network.
According to show creator Doug Naylor, Red Dwarf X will be watchable in the US on PBS, just like the original was in the olden times,
Red Dwarf X will have six episodes, recorded in front of a studio audience. The original cast are all coming back: Chris Barrie (Rimmer), Craig Charles (Lister), Danny John-Jules (Cat) and Robert Llewellyn (Kryten).
That is crazy. When does that happen? I heartily approve.
Trailers are coming out every week at the the Dave site. Details about the new show (and the original one) are at the official show site.
And they're on Twitter, at RedDwarfHQ.
Unlike most sci-fi shows that were canceled long ago, you can see Red Dwarf at your leisure (which I am pronouncing the British way, leh-sure, for the duration of this story). It's on DVD and Blu-Ray and the episodes are on iTunes. That is the correct way.
Here's an interview with creator Doug Naylor, about the revival.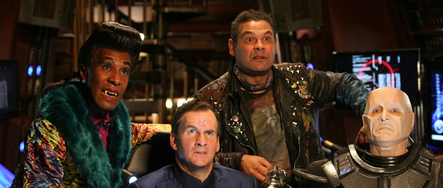 In one episode, Rimmer gave Death a knee smash right to the nards. That sums up the return pretty well.
"Arnold Judas Rimmer, your life is over. Come with me. You will travel to the River Styx, where you will place a coin and —" -- Death
"Not today, matey. Remember, only the good die young." -- Rimmer