A movie based on on Ender's Game movie is really happening, and photographic proof exists.
For years and years, an Ender's Game movie has been in the works. Today, everybody and their grandma has a movie deal for their sci-fi novel with a kid in it. But Ender's Game still had nothin', until now, apparently.
In my 10-plus year career in sci-fi journalism, I reported news that it was being worked on, way back in 2002. That story is right here.
It was so long ago that I used a pun in the headline, "Ender the Beginning." It was so long ago that I did not think the pun was awful.
The site Ender's Ansible has saturation coverage of the thing as it's happening. No kidding. It is being filmed.
Check out Noah Silver's original song. He's putting his song out there in hopes that he gets a chance to get his song in the movie.
The most incriminating evidence that this is not a hoax is this scene the movie people say is really from Ender's Game, with Ender on the right and on the left, Han Solo. Indiana Jones does not do pretend movies, people! His movies are real. Too real.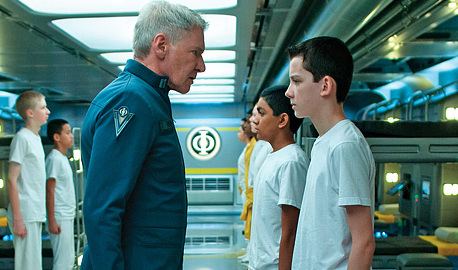 I know.