Atomic Reactions: Marvel Comics on Film
In this book, Mark Bousquet reviews every Marvel movie, made for TV movie, and never released, infamously bootlegged artifacts. I don't know how he survived.
On his site Atomic Anxiety and in this book, Mark writes more words in each review than I write in a month. That's why I steal his reviews pretty often. (Syndicate. That's a better word than steal.) In the interest of full disclosure, I copy edited the book, but I'd buy it anyway.
Atomic Reactions is not a remembrance of all the things he's seen; many of us saw many of these things. But Mark saw all of them, recently. That is hardcore.
He rewatched Howard the Duck! I can't even use that as a punchline now, because Mark has surprisingly positive things to say about it.
The book is current up to summer 2012; it includes Amazing Spider-Man and Avengers. With Avengers, he breaks the movie down character by character. Here's an example: I reprinted on RevolutionSF his Agent Coulson Reaction.
Detailed examinations include the Man-Thing movie that aired once, the David Hasselhoff Nick Fury Agent of SHIELD movie that aired once, and the Fantastic Four movie that never aired at all.
Atomic Reactions is refreshingly free of jaded gripes and grousing about budgets and ratings. Mark focuses on the parts we like; the stories. The actors. The whole Marvel Universe is laid out in this book. It will make you break Netflix.
Buy This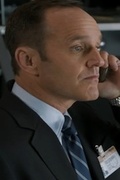 Go right here:
Atomic Reactions: Marvel Comics on Film
A Matter of Time: Unauthorized Back to the Future Lexicon
You like
Back to the Future
. Of course you do. You're a human being. But you don't know as much about it as Rich Handley, who wrote this book about every single thing about
Back to the Future.
Handley covers every single Back to the Future anything, including the cartoon, the Universal theme park ride (which ruled), TV commercials, and music videos.
The book is a glossary combined with an Marvel-style Official Handbook. Every character, background and foreground, gets an entry. Appendixes cover all the video games, and black and white images note every movie poster and box cover, and Happy Meal box.
When I first opened the book I thought of a character. And yep, there on page 125 is Huey Lewis, a band judge who said McFly is "too darn loud."
It doesn't worry me at all that the first thing about Back to the Future I thought of was Huey Lewis. Why do you ask?
This sums up how exhaustive and detailed the book is. Handley sent a copy of the book to Bob Gale, the movie trilogy's screenwriter. He proudly announced that Gale told him, "You are certifiably insane."
This whole project is a mushy love letter to a fun movie and everything related to it. Far more information than you need to know is here, including the principal's first name. It was in the novelization.
That kind of information is what we as geeks require. It feeds us. This book will sustain you until you make like a tree and get out of here.
Buy This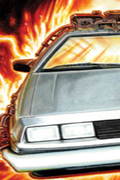 Go right here:
A Matter of Time:
Unauthorized Back to the Future Lexicon