Movie Probe finds web series, Kickstarters, and short films for your viewing pleasure. Links are in the titles. Enjoy them at your convenience. Or else.
Astronauts onboard a ship trudge through their day, but the mission is ending, and the guy has a wife back home. And that's where this 20-minute movie begins.
Colorful dream sequences are made more vivid by the dank set of the spaceship.
The transition from happiness is jarring, because of the talent of the female actor.
The rest of the movie is enthralling. Things go from fine to not at all fine so fast, as if this were a top-notch episode of Twilight Zone.. Like on the first Ralph Wiggum episode of The Simpsons, you can pinpoint the exact moment that her heart breaks. The mournful violin makes it even worse. And by that, I mean more awesome.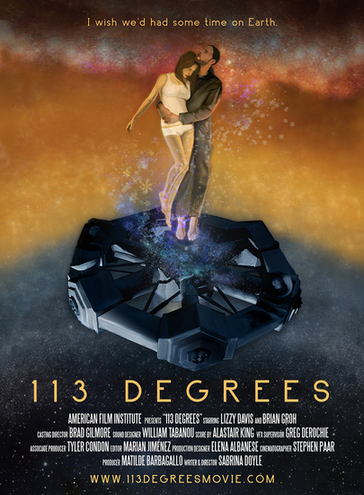 Your standard fantasy art calendars involve fancy artists, dragons, and chain mail. Not that there's anything wrong with that. But this one celebrates writers of fantasy, by putting them in the calendar.
"Not too fun now, is it?" said a warrior lady wearing tiny bits of armor.
The calendar's creator will produce fantasy costumes for 12 writers, including Holly Black, Cassandra Clare, Laurel Kate, Gregory Maguire, and Christopher Paolini.
Creator Laura Zurchin says right here that she will donate proceeds of the calendar to two charities.
Make this happen! I want to see Christopher Paolini, the Eragon guy, lifting a battle axe.
Full Moon Founder's VHS Collection
Full Moon Features' Founder Charles Band unearthed a warehouse full of those big 80s VHS covers for horror and sci-fi flicks. Now he's putting the big boxes, and their associated movies, on sale, on a professionally mastered VHS tape.
Every month, four new flicks are on sale. The first ones are Return of the Zombies, Trauma, Oasis of the Zombies, and Demoniac.
Buy, get more info, then buy more at Wizard Video Collection..
Anamnesis
is 16 minutes of psychological scariness. It's a cyberpunk short film (about 17 minutes) about a desperate man who has a gizmo to steal memories and relive them as his own, at the risk of losing his identity.
The desperate guy has a cold, dead expression simmering, . The movie starts with hard-to-watch violence, but then it goes cyberpunk, not the slasher-flick route I thought it was heading.
The guy attacks people's eyes. Man on eye violence is brutally depicted. You might want to blink a lot before you watch, or have some Visine handy.
This sci-fi horror flick looks brutally good, with gross gore and a crazy-looking dude. These are two necessary items.
For those viewers with money burning holes in their pockets, donate at the highest level and you'll get to be in the movie, where you can kill someone or be killed. No other Kickstarter offers so much death.
This is a Kickstarter for a 10-minute steampunk sci-fi short film. At the link are previews of puppets, costumes, and effects.
The creator describes it as "Dark Crystal inspired puppet storytelling."
The animation in the trailer is awesome. Animal men shoot blue energy blasts around hovering planetoids.
If you're not sold already, a turtle-man headbutts a rock at about 55 seconds in. I require nothing further.
This is a sci-fi themed music CD. The dozen-plus tracks range from good to awesome, fusing hip-hop rhymes over electronic beats and mixes, including a terrific cameo by the producer's baby daughter. The songs depict a space-hero adventure, mixed with arcane and fun comic book and sci-fi movie references, for which I give out major points.
I'm not as fond of the rest of the CD. In between each song are intros and outros, as in old-timey radio programs. It's intentionally cheesy, and I love that. But it jumps the shark quickly.
The first track on the CD is a comedy bit, a parody of the radio announcer. But it comes first, before you hear his over-the-top proclamations. So you don't know what it's a parody of.
The announcer bits tell, not show, the space-hero adventure. Instead of the rapper rapping the story, the narrator does a bombastic reading, with no backing sounds or music.
The announcer has a great lyrical rhythm of his own. But skip some of the over-long bits, and go right to the excellent hip-hop tracks.