"If I could die under rubber on a Guillermo del Toro set, that would be a happy way to go for me." -- Doug Jones
Men in Suits is cleverly disguised as a documentary about actors who inhabit monster suits in sci-fi movies. Really, it's an excuse for those guys to plop down and tell excellent stories about sci-fi movie history.
Tons of people are interviewed. A partial list: Doug Jones (Abe Sapien in Hellboy), Tom Woodruff Jr., (Gillman from Monster Squad, Pumpkinhead), Haruo Nakajima (Godzilla, Ultraman), Bob Burns (Invasion of the Saucer Men), Van Snowden (HR Pufnstuf!), Michelan Sisti, (Teenage Mutant Ninja Turtles, Dinosaurs), and directors Guillermo del Toro and William Malone.
Here's how I knew this movie was going to rule. Doug Jones and Todd Tucker (I interviewed Tucker right here) address whether it's hot inside monster costumes. With pinpoint comedy timing, Jones says, "Yes! God, yes! It's incredibly hot."
Of course, Del Toro is all over this. From Hellboy to Pan's Labyrinth he's known for non-CGI real-life guys in suits. Backstage footage shows a guy climbing into one of del Toro's humongous outfits. Those scenes capture the coolness that's an elemental part of monster suits. They take something that someone imagines and they make it for real.
Men in Suits is a lesson in movie history. It covers the beginnings of sci-fi stuff in movies to today. The grins on the faces of the people who talk in this movie are just infectious. It's an upbeat story, even when the actors talk about their struggles. If you don't own this, I have to consider revoking your geek license.
Watch This
Here's a
trailer
. Here is a guy getting in a giant suit and a guy from
Men in Black
explaining a
"hero suit."
Here are actors describing how they manage the pain
inside the suits
.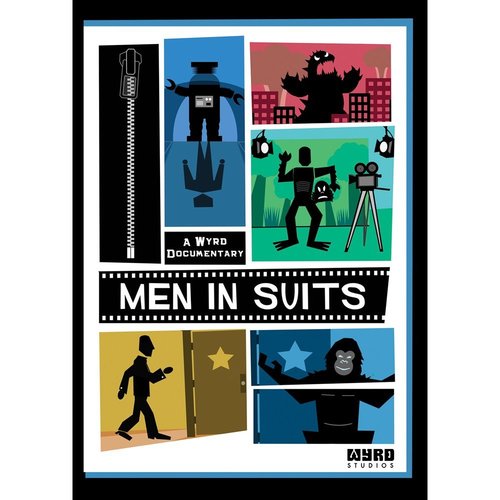 Buy Men in Suits now on the Amazon!