Movie Probe finds sci-fi movies, crowdfunding sci-fi movies, and geek-related excellence for your viewing enjoyment. Links are in the titles. Enjoy them at your convenience. Or else.
So Dark
is a 21-minute movie about a vampire and an interrogator. The movie starts slow, but the interrogator and the vampire have an excellent chemistry. It's hard to tell at first who's the bad guy. Then the whole thing takes a left turn into a brutal standoff. This one is a top-notch action flick, smooshed into a convenient 21 minutes. Give it a shot, if you can handle a vampire story with no romance or smooching in it.
This is a vampire flick that's being funded on Indiegogo. A five minute narration tells all about the movie, and the pitch on why we should drop money on it. But most importantly, it has clips of the movie, which feature a lady covered in blood. It doesn't say why, but I'm going out on a limb and saying vampires.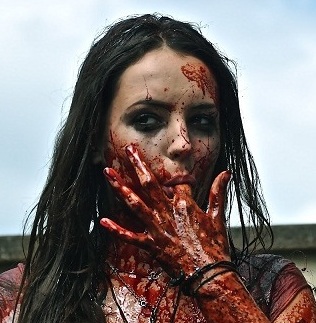 She better put some band-aids on that..