1. Displacement is a thriller involving time travel. (For all the info, check out the Displacement site, on Facebook, and on Twitter.) What movies or books or other geeky stuff inspired you to create a time travel movie?
I've always been a fan of time travel stories. The Time Machine, Back To The Future, Somewhere In Time, The Terminator films, indies like Primer, Safety Not Guaranteed and Fissure all had an influence on me in the writing of this script. The trick is to find an original way in and a unique way to approach it, since so much has already been done in the genre. Based on the reaction to the script so far, I believe I managed to thread that needle. We'll see if the fans agree!
2. For the time travel in Displacement, did you do a lot of hard science research, or just watch Austin Powers: The Spy Who Shagged Me?
Ha! Though I LOVE The Spy Who Shagged Me, baby . . . I actually did a lot of hard science research, and also brought a friend of mine aboard who was a physics major in college (and far more of a brainiac than I) to consult on the script and provide great insight into the hard science aspects. Which interestingly developed some fresh narrative ideas that took the story in even more intriguing directions that I think both the science crowd and general audience are going to love.
3. Where are you filming Displacement?
We are filming in the Los Angeles area. In fact our first location was actually a building in downtown L.A. that's being renovated. A colleague of mine is creating a studio in the space there and was kind enough to let us shoot in it.
4. The movie has a crowdfunding campaign. What is the advantage to doing that, instead of traditional ways of financing movies?
The beauty of crowdfunding is that it not only allows you to maintain creative control of your project (without interference from the "suits" in this business) but it also gives the audience an opportunity to share in the filmmaking process and be a part of it from the beginning. It's getting back to filmmaking at the grassroots level. And it's a total win-win. The audience gets perks and rewards like in our case set visits, VIP access, a copy of the finished script, autographed DVDs and posters, even speaking roles and an executive producer credit at the higher levels.
We as filmmakers get to make our film. And there's also an even greater sense of purpose attached to it because now you actually have fans that you are communicating with and whom have a vested interest in your project. You're not working in a vacuum, which, at least in the independent world, is what it feels like sometimes until you're sitting in a darkened theatre for your first screening with an audience.
5. Which crowdfunding perk do you wish you could keep for yourself?
That's a great question. I'd have to say the VIP Treatment that's included in our top perk, specifically the Universal City Backlot Tour. I'm a geek at heart and that tour is one of my guilty pleasures in life. And you get to see Town Square where Back To The Future was filmed. It does not get much cooler than that.
6. Are your effects going to be more CGI-based, or practical?
More practical. The entire film is very grounded in reality and character-driven rather than effects-driven. What few effects there are I plan to do "in camera" or with relatively simple compositing techniques in post. There's one effect at the end that would need to be CGI if we can pull it off, and it'll only be possible if we raise our funding goal.
7. Most interviews ask about the hard parts of filming. What has been the easiest part of filming?
The easiest part of filming for me so far has been working with my incredibly talented actors. They say that at least half the director's job is casting, and I've been fortunate to land some amazing talent in this picture, both emerging and veteran. My lead actress Courtney Hope (Prowl, Mob Rules, Swelter) is a fantastic young actress who's on the rise and is truly going to blow people away with the performance she's delivering. This could very well become a breakout role for her.
8. Your IMDB says you did short films, including ones about Blade and Afro Samurai. Tell me about some of those.
Those were a blast. Rising action star and martial arts gold medalist Spitfire Brown came to me originally with an idea for a Blade tribute film, which recently won an Honorable Mention in the Urban Mediamakers Film Festival and also got him in the door to audition for the ultimately doomed Blade tv series.
After that when news spread that Samuel L. Jackson was developing a live action Afro Samurai feature, we took a similar approach, albeit a bit more ambitious, to present him as a candidate for the title role and shot our own version. I believe ours was the first live action interpretation of the anime, though I could be wrong about that. It went on to become an Official Selection in the Action On Film International Film Festival winning awards for Best Costumes and Breakout Male Action Star Of The Year for Spitfire. Go figure.
You never know what's going to happen with these things once you put them in motion.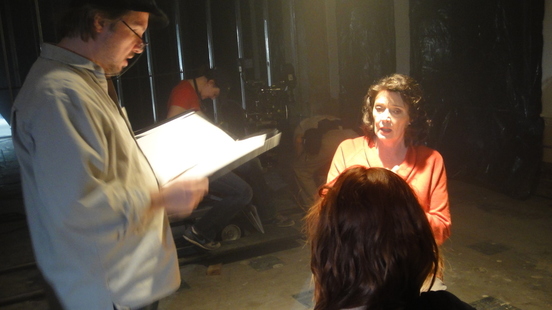 9. Sarah Douglas, Ursa from Superman 2, is in your movie. Describe your feeling when you found out that Ms. Douglas was officially going to be in your movie.
"Ursa from Superman is in my movie!" Yeah, it was pretty astonishing when she said yes and very surreal. I was working my first job as an usher in a movie theater in Chicago when those films originally came out. To think that some 30 years later I would be directing her in a film I wrote is truly remarkable.
I had actually met Sarah awhile ago through a mutual friend and we'd talked about working together, but mainly on projects with bigger budgets. Never in a million years did I think she would agree to do this picture. But I literally wrote the character with her in mind, and she absolutely loved the script. She's also a terrific sport and a great lady and was totally up for the adventure. That was the end of this past January.
She was spending time with family in London, so I asked when she might be back in Los Angeles to schedule shooting, figuring she'd say later this spring or summer. Turned out she was coming into town 3 weeks later in mid-February! So I made the insane decision right then to pull the trigger on shooting a majority of her scenes when she was in town, then figured out how the hell to pull that off with virtually no time to prep and very little money. It was pretty crazy, but we did it and the sequences we shot turned out fantastic.
10. You probably can't reveal much about her role in your movie. But I have to ask: How awesome is she?
Pretty freakin' awesome.
And different, I think, than anything we've seen her in before. There's a lot of layers to her character, and without giving too much away, she may not be exactly what she seems when we first meet her in the film.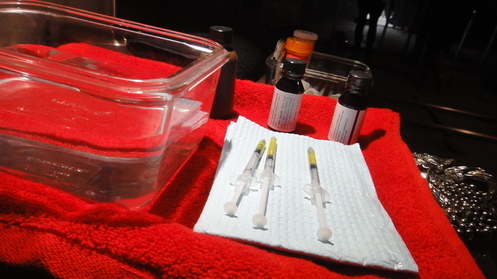 Chip in on Indiegogo or face the syringes.