Summer Reading: Omniverse Series, Relic Worlds, Steampunk History
Reviewed by Joe Crowe, © 2013

Summer Reading's Book Probe finds books of geeky interest, so you don't have to. Links to buy are in the linkage at the title. Read! Read like the wind!
Omniverse Book 2: Through Darkness and Stars
Steve Karmazenuk's
Through Darkness and Stars
continues his sci-fi series that he started in
The Unearthing
(see the
RevolutionSF review
). The second book could not be more different. That's a good thing.
The first book was about an alien ship being found on Earth, and its effect on politics and religion. Book 2 takes place after all that. The ship has launched with a bunch of humans headed for parts unknown in space. The first one was drama and intrigue; the second one is action and sci-fi with a dash of drama.
In this one, the characters and story arcs are more polished. The entire cast is new except for a couple of returnees. It's entirely possible to read this one without reading book 1.
My favorite part is the sci-fi science! Bombastic explanations abound, for traveling across long distances in space and evolving biology.
Across Darkness and Stars is a quick read even at 400 pages. A murder mystery breaks out. Contact is lost with Earth. Then the story shifts to Earth to show why. Then the reason the humans went to space doesn't work out exactly as planned. It's a series of oh, crap moments set on a spaceship.
RevSF Rating: 9 out of 10
Omniverse: The Aeons War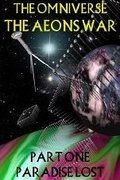 "Youíre telling me the reason they all died, the reason Iím here now, is because thatís how my future self planned it, that I killed them and that I will kill them again?"
Right above this I said that book 2 in this series is nothing like book 1. Book 3 is nothing like book 1 or 2. To put this into context in the annals of SF book series, that never happens.
Book 3 is a thousand years after book 2. The people on the ship in book 2 settled on a planet and started a civilization and a thousand years later in book 3, new drama arises.
Chief among that drama is that one of the characters from book 2 is worshiped by the characters in book 3. A hero finds out that his future self is a hero who went back in time and died. Naturally, he's conflicted about that.
Then the goddess returns, and then she and her daughter take the war to the aliens. So, book 3 is pretty busy.
The goddess makes difficult choices, tragedy ensues, and after the end of book 3, I was spent. This whole series is a top-drawer science fiction effort, with deep thought about society and religion and law mixed up with alien fightin'.
RevSF Rating: 8 out of 10.
Buy book 3 in one big Kindle chunk, or in smaller pieces, part 1, part 2, and part 3.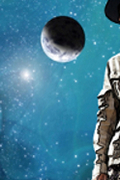 These books are a revival of excellent geekiness.
Choose your own adventure books were quite the rage with me and my ilk. You read through a story, then choose from different actions and turned to that page. Sometimes you made the right choice and kept going. Sometimes you opened the door that had a T-Rex behind it.
The books really got hardcore when they added hit points, skill stats and the other trappings of role playing games. In those books, I was far more likely to die, especially in book 5, f I could not find the Sword of Goblin Slaying in book 2. Sorry. Old wounds opening back up.
Relic Worlds books bring back the finding of your fate in Kindle form. Instead of turning troublesome physical pages with your physical fingers, you just type in the number you need.
There are eight or so books in the series already. I can verify that three of the books are super fun. I refuse to verify that I died within 3 page turns.
When I opened up the first one, suddenly it was 45 minutes later. I got lost, lost, I tell you. These books put the nostalgia meter into the red zone. The only way it would be nostalgically better is if I could play one while drinking a Crystal Pepsi.
RevSF Rating: 8 out of 10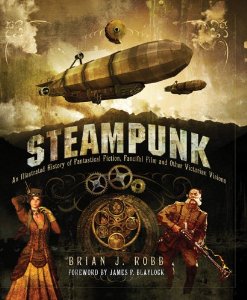 This coffee-table style book is just plain good lookin'.
It's a book about steampunk that looks steampunk, with a bronze colored cover, with sepia-tone paper and ornate page designs. Steampunk art and photos fill tons of books, but this one will make you educated. It is crammed full of the history of steampunk in all of the geeky genres.
The whole thing started with a letter to Locus magazine by writer K.W. Jeter. Then the book goes back to Jules Verne, to "Edisonades," Edgar Rice Burroughs, and Michael Moorcock.
Steampunk-ish movies and TV get the treatment too, including Rocketeer, The Prestige, and an all-time favorite, Adventures of Brisco County Jr.
Comic book steampunk is documented, including League of Extraordinary Gentlemen, and Hellboy. TV steampunk includes Warehouse 13.
The book devotes an entire page to the role playing game Space 1889. I thought only the three of us who played it knew about that game.
It's not just a picture book. This is a history textbook.
I feel educated after reading this thing. I feel more geeky. It's perfect to pick up every now and then and embiggen your pop culture smartness.
Or you could just whack someone upside the head with this book. It's heavy.
RevSF Rating: 9 out of 10