Movie Probe finds sci-fi movies, web series, and crowdfunding web series and sci-fi movies, for your viewing enjoyment. Links are in the titles. Enjoy them at your convenience. Or we will find you.
This is a 16-minute sci-fi movie starring Paul Reubens (Pee-Wee Herman) and Janina Gavinkar (from
Arrow
and
True Blood
. It's watchable free at the link.
It holds a special place for me because Ms. Gavinkar was on a geek TV panel with me at Alabama Phoenix Festival and mentioned it. Then she texted Paul Reubens because I brought him up. (Most conversations with me include Pee Wee Herman references.) She sent a text to Pee Wee Herman! I hope he got the text on Texty, the talking phone that he surely must have.
Reubens plays intense and nervous, and he's about as un-Pee Wee as he could be. He's a scientist whose partner is killed, but his personality was copied into a program. So the program thinks that it is him.
Or is it him, still alive but in computerized form?
The cops (including Gavinkar) discuss all that, and solve the murder. It could easily be a full-length movie, but it's just 16 minutes.
The ending is stunning. Horrifying, even. Final Moments of Karl Brant is a must-watch.
"It cannot be incorporated. It must be destroyed!"
This movie is about an academy that sends teens to fight aliens. They need "good, hot killers" and they face the evils of, among many other things, retroactive continuity.
I need to watch this right now. This quote from a preview trailer will sell you. Trust me.
"Science is pure. Nothing evil has ever come from science."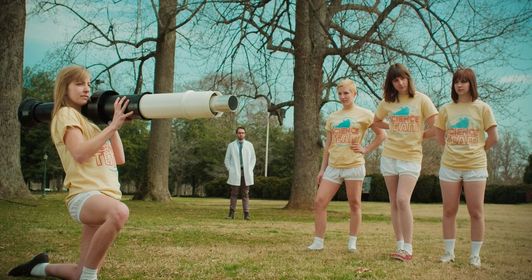 Yes. This is a co-ed firing an energy-beam bazooka..
Ghoster
is a graphic novel and a movie concept. It's about a guy who inherits the title Ghoster of the Realm, who protects royalty from haints and spooks and such. The trailer is atmospheric and moody. So it's got that going for it, which is nice.
Give it a look. The animatic trailer has moving parts, including usual ghost suspects such as Floating Girl and Creepy Old Man Coming Out of the Wall. I'm looking forward to more of my bejabbers being scared out.
This one is a short film about a spaceship exploring a comet, but the enthusiasm of the writer and director that here make it feel bigger than just a sci-fi flick. The writer aims for it to be like
Moon
, and he name-checks some awesomely out-there 1970s sci-fi flicks as influences. I want to see what these folks have in their heads. I really just want to see the movie, but I was trying a metaphor.
This sci-fi web series is about a guy, some folks in
Outbreak
suits, and time folding in on itself. You know, the usual stuff.
Level 17's first episode is out now at the link in the title. It starts awesomely, with guys in Outbreak suits busting into a house. There's a guy bleeding like he's been stuck by Abdullah the Butcher, and a live-action alien running from the Outbreak guys.
I'm confused, but in a good way. Episode 2, I'm sure, will tell more, since that's the job of second episodes. But in episode 1, what appears to be our hero finds a futuristic space gun. So I'm hoping he gets to shoot somebody.
This documentary about
Legend of Zelda
and the influence of 8-bit video games and its fans is in the works. It looks
so great.
See for your own eyeballs using
this trailer
.
Warning: There is a three-second clip of a mashup with Back the Future called "Link to the Future." It may be too much awesomeness for you to handle.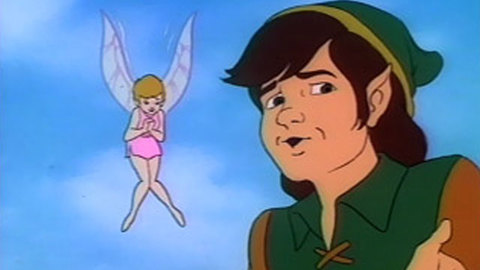 A scene from the 1990s Zelda cartoon. No need to thank me.