Here's a quick interview I conducted by e-mail with Thunder Levin, the awesomely-named writer of the awesomely named Sharknado.
How did you break in to working on movies?
That depends on how you define "working on movies." I went to film school at NYU and came to L.A. with my student film shortly after the invention of fire. I found work pretty quickly as a still photographer on movie sets for Roger Corman's company Concorde/New Horizons. But writing and directing was a longer road.
I spent a lot of time directing corporate promotional videos, while writing feature spec scripts, and having just enough success that I never gave up, but not enough to really break in. So in 2005 I decided I'd spent enough time trying to get someone else to "let" me make movies and I went out, raised some money, and made a film called Mutant Vampire Zombies From The Hood, which starred C. Thomas Howell.
And while that film hasn't enjoyed wide distribution, the people who have seen it seem to have really enjoyed it. It became a sort of proof-of-concept that I really could do what I had been telling people I could do for years. As a result of that, doors started opening.
I wrote a script for the Asylum, which led to writing and directing another film for them, which led to Sharknado and AE Apocalypse Earth.
And now, hopefully, on to even bigger and better things in the future.
What are you at work on right now? It's OK if it doesn't involve tornadoes or sharks.
I'm developing a couple of TV series including an adventure/comedy and a science fiction epic, and several features including Shadows Of The Jungle, an action thriller that has been postponed a few times for other projects and which I now hope to get into production in the near future.
What books, movies, or TV inspires your writing?
Ooh, good question. There is so much. I think the original Star Trek series is what first set me on a course to be in the business. It was my favorite show as a kid and I wanted to work on the Enterprise when I grew up.
It turned out that the starship Enterprise wasn't real. Except that it was! It was very real on a TV soundstage somewhere. Then, in 1977 I saw Star Wars and the die was cast. So Star Wars and Star Trek have been my biggest general inspiration to do what I do.
As far as things that inspire my writing or directing, I think the work of Spielberg & Cameron have the biggest effect on my directing.
And a book called Lucifer's Hammer, by Larry Niven & Jerry Pournelle, which I first read as a teenager, inspired my interest in preparing for disaster, which found an expression in Sharknado.
Tell about the most challenging movie shoot you've been a part of.
All my films have been done on very tight budgets, so they've all been pretty challenging. But probably the most challenging was my last one, AE Apocalypse Earth.
The jungle is a challenging and demanding environment, and there are limited production facilities and resources in Costa Rica. Just moving around the jungle, not to mention moving lots of equipment and personnel, cost us a lot of time.
And we were beset by poisonous snakes, scorpions, and giant spiders (not to mention mosquitoes) on a daily basis. Fortunately, I was working with a GREAT group of people, both in front of and behind the camera, and we all banded together to make what, I think, turned out to be a great movie.
What was the most fun part of creating Sharknado?
What part wasn't fun?! The whole thing was a blast. But I guess writing a scene where someone cuts their way out of a shark with a chainsaw would probably be at the top of the list.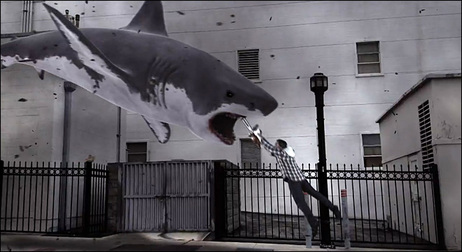 Sharknado!
Linkage
From Thunder Levin to you:
Mutant Vampire Zombies from The Hood