The Flash is set for his own TV show spinoff from Arrow soon, because The Flash is just the best.
Images of Flash actor Grant Gustin were hurled at the Internet, which then lost its dad-gum mind.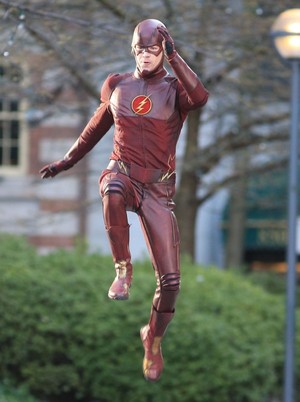 Wheeeeeee!
This is not the first time Flash has appeared in live action. Here is some healthy perspective.
Legends of the Superheroes (1979)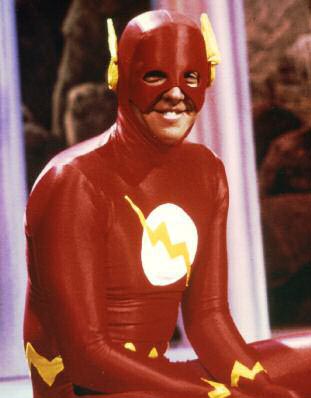 Check out my review of this purely delightful thing.
Then you can buy it on DVD right now after decades (decades!) of it living on bootleg tape tables at cons. You will thank me. My email is revolutionsfjoe@gmail.com.
Then marvel at the clearly flammable vinyl costume on the actor's vintage 1970s frame.
The Flash (1990)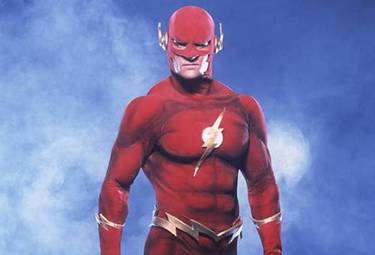 This Flash is a damn man. You can tell from the guns and the abs chiseled out of granite, all the way to the red plush costume, which was made out of the finest velour.
JLA Never-Aired Pilot (1997)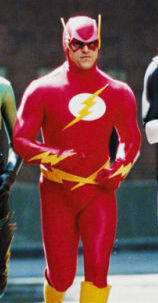 This one dwells only on YouTube, which is where the sci-fi convention tape table migrated in the Internet age. reviewed it here, and found it lovable, but not just for the Flash. You'll find out why at the link.
In it, Flash ate a lot. That's true to the comics. He had to keep up his metabolism! Unfortunately, the costume didn't keep up along with him.
Smallville (2004)
The Flash wore a red hoodie! But I giggled with delight anyway, because it was The Flash on a DC Comics live-action TV show.
Technically, however, this is not Flash, it's Impulse, Flash's grandson from the future and -- we interrupt this sentence to direct you to Alabama Phoenix Festival and DragonCon so Joe can explain the Flash Family for you in person.