SciFighters! Wonder Woman vs. Xena
© @gary_mitchel, @ubalstecha
March 19, 2014

This is SciFighters! We determine the winners of titanic tussles and calamitous collisions the likes of which you have not gotten mad on Facebook about (until now.)
We have a winner and we have our favorite thing: the discussion about why she won: By a vote of 57 percent to 43 percent, XENA, WARRIOR PRINCESS is the winner!
Here's how it starts.
Wonder Woman: Sister, stand down! We do not have to go to war against each other!
Xena: Sure we do. It's fun.
Gabrielle: Gaaaaaah! Invisible giant bird!
Here's how it went.
Would Xena's Frisbee-thing be deflected by Diana's bracers, or would it slice her hand clean off? THESE ARE THE IMPORTANT QUESTIONS. -- Becky Panovich
Wonder Woman would win this. Even if Xena has as much skill as WW, Xena has neither the superhuman strength nor the invisible jet. -- Jeff Ward
I so wanted to give this one to Xena because I like her more but from a realistic standpoint I have to give this one to WW. -- Nathan Laws
Growing up, Wonder Woman was the coolest chick around! I would hear but not see, a plane on a cloudy day and pretend it was WW! not to mention those WW Underoos from the Tooth Fairy Xena just scared me with that yell. Lucy Lawless is just a frightening woman. CUFF POWER BRACELETS!!! PWIIIING PWAAANG PWIIINNG* -- Tina Zukaitis
Xena would totally take it. She's not afraid to fight dirty. -- Elizabeth Lainy
She has no way to actually hurt Wonder Woman. WW could just stand there and let Xena wear herself out with all the punches and kicks and whatever else that she wanted. -- Greg Plunket
IThis is a case of one must ask, "Who would win between the Lynda Carter incarnation of Wonder Woman and the Lucy Lawless Xena?" The only canon you can use to determine powers and abilities are their respective TV series. That said, it's Xena. When was the last time you saw the Lynda Carter Wonder Woman kick Ares' ass? -- Jene Dirr
I have to go with Xena. WW has more of a moral code but Xena is a reformed villian; I think if her back was up against the wall, she'd pull out all the stops. -- Michelle Jiricek-Kolwyck
How is Wonder Woman winning? Xena killed most of the Greek gods.. -- Regina Allen
I love them both, gods know I do, but I have to go with Xena. -- Myclette Brown-Lavalais
THIS IS AN IMPOSSIBLE CHOICE -- Laura Haywood-Cory
You're welcome. -- Deanna Toxopeus
I hate you. -- Laura Haywood-Cory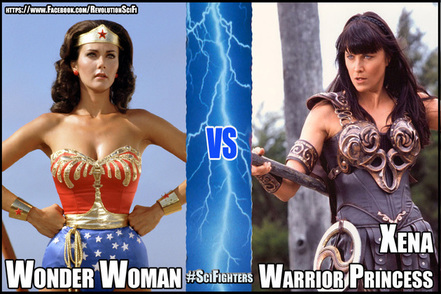 Go to the poll to vote now!
Pass this on using the hashtag #scifighters. Then tell us how it happened at revolutionsfjoe@gmail.com, or on RevSF's Twitter and RevSF's Facebook and RevSF's Tumblr and wherever you see the link.