Chewbacca's wife and the mother of his youngun is the best mom, and we know this thanks to the Star Wars Holiday Special.
She's a stay-at-treehouse mom and she epitomizes the greatness of the Wookiee.
She took in father-in-law Itchy. She did the cooking and the cleaning, while watching TV and wearing clothes, which we did not know Wookiees could do. Apparently they do it if they feel like it. So it is not our place to argue.
While Chewbacca was away being awesome, son Lumpy watched Jefferson Starship videos all day and night. It's OK. It was the 70s.
She left the job of rescuing her family to Chewie, because it's important for a child to see that both of his parents are super-bad stormtrooper -tossing monster heroes.
When the Stormtroopers invaded her home, she could have killed them all with their bare hands.
That's right. Their bare hands, with their arms still attached. She's a lady, but she's also a Wookiee.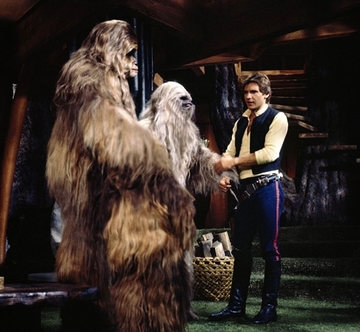 Malla with her brood and their hairless friend Han Solo.